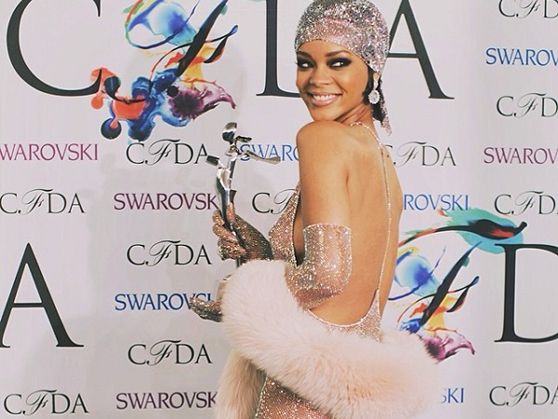 monday night was the cfda awards and out of any award show, it is my favorite because it truly is a celebration of fashion. while the met gala relies on a theme, the cfda awards are for designers by designers, so there really isn't such a thing as a fashion faux paus. except when you aren't actually wearing any fashion.
rihanna's dress, designed by her stylist mel ottenberg's boyfriend adam selman, was basically mesh and over 230,000 swarovski crystals. oh and a matching do-rag and gloves, with a pink fur stole. ottenberg said she wanted rihanna to have some fun and have something "you couldn't find anywhere else in the world." i'm all for that, and rihanna has wore lots of one-of-a-kind looks in the past, but i didn't see fashion last night, i just saw ri-ri's mostly naked body. between this look and her recent lui magazine feature, i feel like i've seen all of her. she said in her acceptance speech:
"fashion is just a world of thrills, it's exciting, there's no rules, there's just…i mean she has tons of rules (gesturing at presenter anna wintour)…there are rules! but rules are meant to be broken."
and they are, but is nudity for the sake of nudity breaking the rules? not for me. it was all about the shock factor, not the fashion factor. artists like madonna, grace jones, and josephine baker have used the same tactics, but this felt forced. new york magazine wrote about how rihanna using clothing as a weapon ("she can beat me, but she can't beat my outfit"), but here she's using no clothing as a weapon and that sets a dangerous precedent. as women, we should not have to use the lack of clothing to speak to how powerful we are, and rihanna has proven with her talent that she is a powerful woman.
the whole thing—being called an icon and the dress—made me think more about who is considered a fashion icon. in the past, the fashion icon award has been given to women that have set trends and become inspiration for designers: kate moss, iman, sarah jessica parker, nicole kidman, elizabeth taylor, lauren bacall, jacqueline kennedy onassis. i suppose rihanna could be in that group, but these women had years and years of iconic moments before they were considered icons themselves. we're too quick to throw around that word, icon and iconic, and iconic moments don't always beget icons. when nicole kidman wore a galliano for dior acid green chinoiserie gown, that was an iconic moment which led to more iconic moments as kidman wore one amazing red carpet look after another. sharon stone wearing her husband's shirt to the oscars was an iconic moment (so was her wearing the gap), as was jennifer lopez in navel-baring versace. but i don't think i'd call either a fashion icon.
what did you think of rihanna's dress (or lack thereof)? and do you think she is deserving at this point in her career of the title fashion icon?
p.s. congrats to public school's dao-yi chow and maxwell osborne on their menswear designer of the year award (to go with the swarovski award for menswear they won last year), and mary-kate and ashley olsen of the row on their win for accessories designer of the year (they won in the womenswear category in 2012)


photo via glamour.com