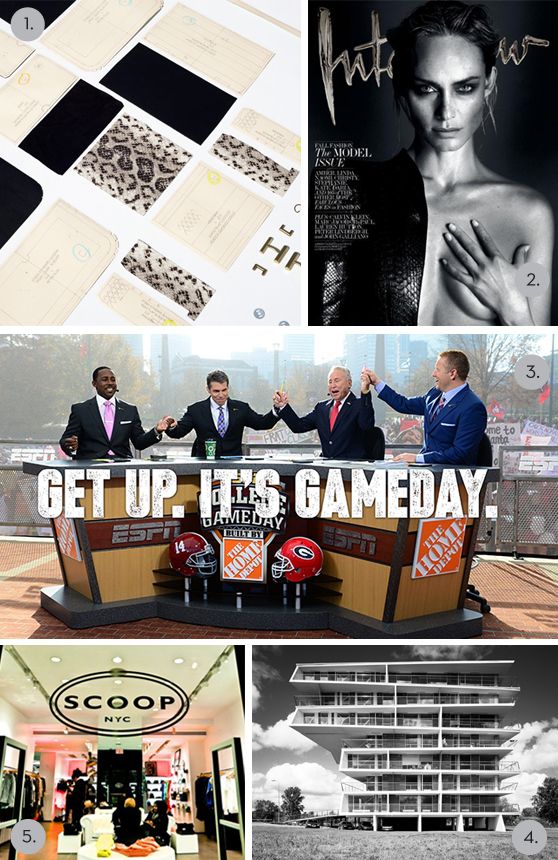 1. cr fashion book has a fun look at what goes into making a reed krakoff academy bag. / 2. could it be that the best september issues are not from traditional fashion mainstays? last week, i picked up t, the new york times fashion magazine with cover girl rooney mara, and i just got the digital edition of interview featuring models galore (nsfw). / 3. it's truly the happiest time of the year: college football is back and that means college game day! / 4. one thing d and i are excited to do in new york is see the le corbusier retrospective at the moma, the largest exhibition ever produced in new york of his work. / 5. scoop is opening it's 3rd store in california this weekend at 21
grant street near o'farrell (formerly bebe). the 2,600 square foot store
will have a great designer mix from missioni,t alexander wang, clover
canyon, and rag & bone, plus menswear from shipley and halmos and
marc by marc jacobs.
if you're in the u.s., have a great holiday weekend!
image credits: 1 / 2 / 3 / 4 / 5
1. ruth wilson of jane eyre, anna karenina, and the bbc show luther, looks amazing in one of my favorite looks from the dior spring 2013 collection. / 2. garance doré has opened a shop selling her illustrations as posters and art prints. perfect for any fashion loving friend on your gift list (or yourself) / 3. a mirrored clutch is high on my holiday wishlist and this one from kate spade has the perfect amount of polish. / 4. oh so beautiful paper has a great round-up of 2013 calendars…this letterpress one from the made shop is functional but also looks like a cool piece of art. / 5. besides the grace coddington memoir, i've been devouring vogue: the editor's eye in anticipation of the upcoming hbo documentary airing on thursday. i'm so excited to see and hear more about how some of my favorite editorals came to life…it's what i love about magazines.
have a great weekend!
ruth wilson photo from zimbio; michaela bercu image from fashion.telegraph.co.uk