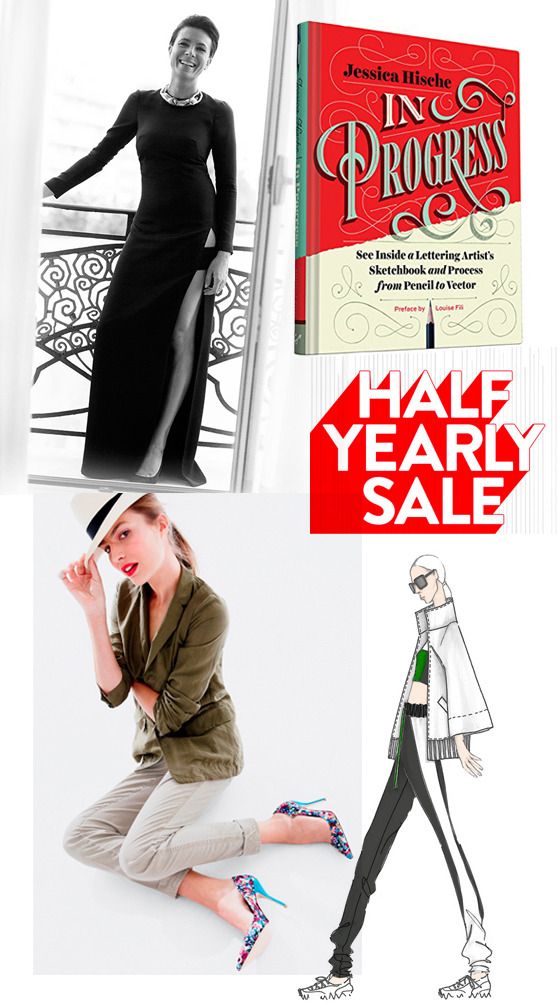 yay for the weekend! but here's a few things i found poking around on the internets that i thought were trés cool…
garance doré went to cannes this year and was going to a premiere so she did what any other person would do (unless you're diane kruger or blake lively)…hired a stylist. so cool to hear (and see) her behind the scenes account of something at times seems so easy. oh and how amazing does she look?
i've been obsessed with type and hand lettering for as long as i can remember, and in the age of computers and "everyone is a designer," that art seemed like it was dying. over the weekend, i met cynthia warren, the fabulous designer behind the invites that chez panisse does, who does everything by hand. another fabulous lettering designer from the bay area jessica hische (she worked on the grand budapest hotel) is coming out with a book called in progress: see inside a lettering artist's sketchbook and process, from beginning to vector (check out the cool video of the inside). it will be so interesting to learn more about lettering and maybe get back to doing some of my own.
the nordstrom half-yearly sale started yesterday, and there are so many great pieces on my wishlist. this dress for the weekend and this one for work, love these pumps for pretty much anytime and this cover-up for warm getaways.
two fashion collaborations to know about. first the j.crew/cfda fashion fund pieces featuring paul andrew, eva fehren, and ryan roche are available for pre-order now…this pump is to-die-for. then this fall, athleta is teaming up with derek lam for the 10 crosby athleta collection. nike has been doing partnerships with fashion designers for a few seasons now (like the most recent one with sacai)—this is my version of athleisure.

jessica stam backstage at zac posen s/s 08
according to insiders, jessica stam has nabbed another big spring campaign: dolce & gabbana. she won't be alone though, teaming with gemma ward and lily donaldson in the ads, which will be shot by steven klein.
————————–
finally, it's coming. according to racked, topshop has finally found a place to call home in new york: 478 broadway near broome in soho. interesting fact…it's currently home to landmark yellow rat bastard. no word on whether yrb will relocate. another place for me to visit when i head east.
————————–
also eyeing manhattan, nordstrom, which has signed a non-binding letter of intent for park avenue and 56th street, current location of the drake hotel. the good things about the space: it's big (200,000 square feet), and it would face 57th avenue (shopping mecca). bad things: there is no retail presence in that area, which could make getting foot traffic tough. nordstrom has also checked out other spaces in the city, including in columbus circle, near penn station, the flatiron district and on madison avenue.
pic from style.com
notice anything different about irina? how about the bling on her left ring finger, courtesy of pete doherty. yes, that pete doherty. wwd is reporting the catwalker-slash-singer is engaged to the rocker. she said backstage at balenciaga "i only recently got engaged." huh? i wasn't crazy about her before, and i'm definitely not crazy about her now.
————————-
j'adore couture gets some press!! my blog was chosen as pick of the week of innerfrenchgirl.com…read what they had to say about me here. thanks french girl!
————————-
vogue italia has a habit of breaking girls, and this month is no exception. steven meisel has chosen meghan collison, winner of a montreal model search and now signed with supreme. call me crazy, but doesn't she look like a more brooding version of freja?
pics from wwd and tfs

looks from carolina herrera s/s 08
is it me or are the shows a snorefest this season? you'd think with summer, you would see bright colors, happy models and interesting patterns. unless you went to tracy reese, diane von furstenberg, or carolina herrera, then you may have wondered if you were looking at prefall. speaking of herrera, she did her gorgeous modern take on ladies who lunch (tune in for oscar later today for the original version). one person who wasn't at herrera was the nytimes' cathy horyn, who was banned for her unfavorable review of her f/w 06 collection. ouch. way to hold a grunge carolina!
——————————–
in other news, wwd reports that fashion week will remain at bryant park through the f/w 2010 shows. this gives the cfda more time to look for a new home although a longer term contract with the park is still a possibility.
fashionista says that models walking in marc jacobs tonight had to report for a rehearsal at midnight last night. wonder what he's got up his sleeve?
——————————–

chanel iman backstage at jean paul gaultier couture
one model confirmed for marc is chanel iman, who's featured in today's l.a. times. any girl that loves roscoe's chicken & waffles, shopping on melrose and at forever 21 is a gem in my book.
stay tuned for marc tonight and more show coverage.
pics from yahoo and style.com
kate hudson looks like, well, kate hudson on the cover of bazaar. snore.
—————————–
the knockoff battle goes to the senate.
—————————–
fashion prices continue to rise. we'll either continue to pay or we'll buy their lower priced stuff, depending on who you ask.
—————————–
istithmar, based in dubai, won the bidding war for barneys. the new owners are talking about expanding the stores in the u.s., and retooling the barneys website. the san francisco flagship is set to open next month, with las vegas next year and scottsdale in early 2009. they also plan to launch more co-op stores, up to 40-50 (there are 14 now).
—————————–
adam+eve, one of my favorite lines of contemporary upscale basics, is being rebranded. the line will be called adam adam lippes and a new website, shopadam.com and the first freestanding store (in the meatpacking district) will open. designer adam lippes said that after appearing on oprah, people had some confusion finding the website, being taken instead to a porno site. the rebrand was done by doug lloyd of lloyd & co., who worked with tom ford at gucci & ysl and estee lauder.
i'm normally not a fan of snejana, but she nails anna wintour in a new editorial in vogue paris (claudia schiffer is on the cover). also in the issue: hedi slimane snaps some of his (and my) favorite girls, cindy sherman plays dress up in the balenciaga f/w collection, inez & vinoodh shoot carla bruni, and a ladylike sasha in an ed by patrick demarchelier. gotta love carine roitfeld!
—————————
cathy horyn has a great article on her personal recollections on gianni versace on the tenth anniversary of his death.
—————————
halston has hired versace head designer marco zanini to head up the relaunch of the label. zanini will relocate to new york after the s/s 08 versace show. i'm glad that the house hired someone with extensive red carpet experience (he's worked with versace since 1999, and worked at dolce & gabbana before that) and someone who will remain true to the house vision. shame for donatella though…her collections were finally hitting the mark.
—————————
the phillip lim store is open in soho…ah i wish i were there. i did attend a great trunkshow for the designer's f/w and holiday collections at metier, where i saw some lovely ombré buffalo plaid dresses and chunky sweaters. read more about the new store at refinery29.
scan from diorette at thefashionspot
i loved the f/w burberry prorsum collection. too bad the ad campaign is as stale as week-old bagels. bring back stella & kate!
——————–
two new beauty signings: kate winslet for lancôme trésor and jennifer garner for neutrogena. upgrade and downgrade.
——————–
there are rumours floating around that linda evangelista, kate moss, christy turlington burns, and naomi campbell will walk in the dior couture show on july 2 and will be hosting an afterparty honoring the house's 60th anniversary. anyone got an extra ticket?
——————–
another brit goes back to london. matthew williamson will show in london for the s/s 08 collections, but will be back in nyc for the f/w 08.09 shows to celebrate the grand opening of his new store.
marc jacobs has a new fragrance coming out in august called daisy. although it takes cues from his marc by marc line, he's not calling it "secondary." the fresh, youthful scent has notes of gardenia, jasmine, ruby red grapefruit, and wild strawberry, and will be available in eau de toilette ($55 and $70), velvet body butter ($35), shower gel ($30) and body lotion ($32). bloomingdales will have a one month exclusive on the scent before it's released worldwide.
gisele says bye-bye to victoria's secret. she will be with them for the rest of the year…wonder if that means her final vs fashion show will be this winter?
kate moss' topshop collection is sold out in the uk and france, and not alot is available online. there's always patrick robinson for target go international!
sarah jessica parker is on the cover of june's glamour, and inside she pairs pieces from her bitten line with high end looks. check out their site for a slideshow. in other cover news, katherine mcphee shows up on lucky, and katherine heigl is on allure, and ashlee simpson is on cosmo.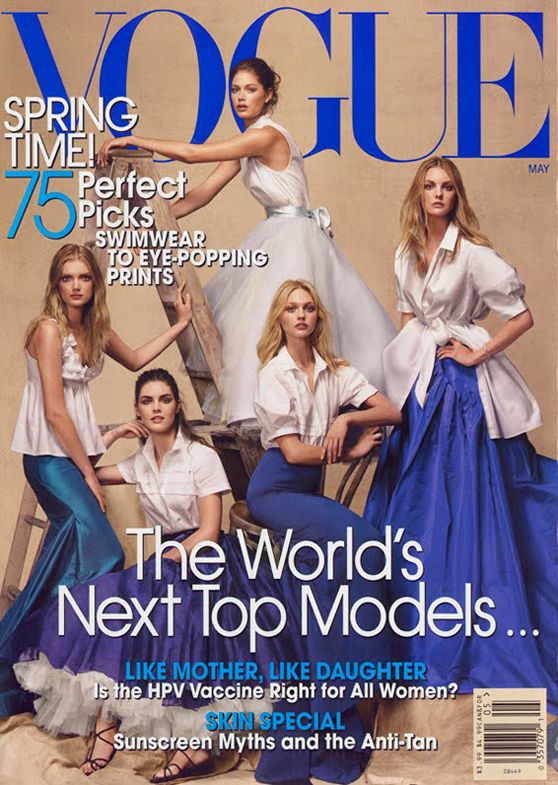 anna wintour and her gaggle of supermodels will be on the today show friday. style.com has the article, pics and video from the may cover up. after seeing little sasha talking in the video, i'm fast becoming a fan.
if you haven't already scooped up some shirts from gap design editions, you better get to a store quick. most of the extra smalls and smalls are sold out online (i managed to snag a rodarte trapeze top earlier today).
girlshop, the store, is indeed closing, as soon as sunday. all merchandise is priced to move.
cover via modelinia