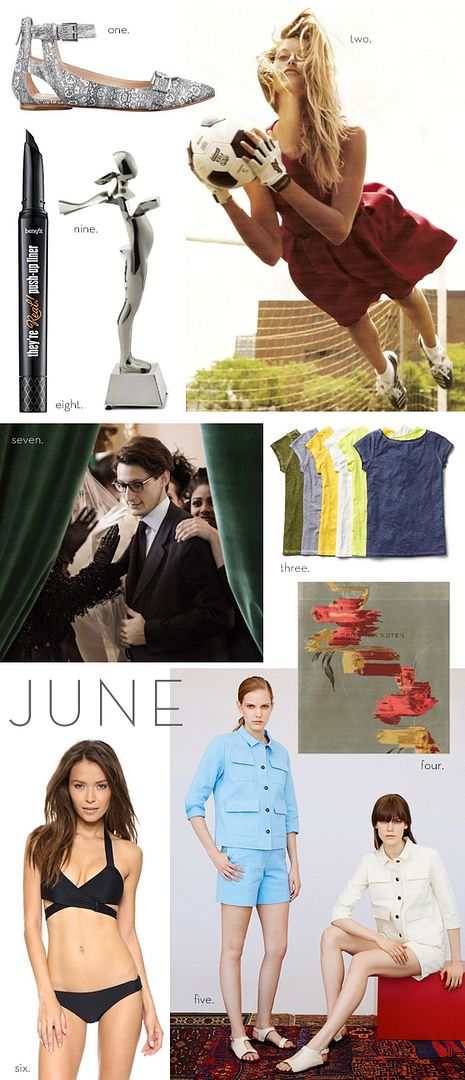 one. remember this post where i mentioned my search for a cool pair of flats to rotate with my valentino's? well after considering a chloé pair at the gilt warehouse sale, i ended up with a lizard printed pair from belle by sigerson morrison. get them here and here (also available in black and grey leather.
two. i'm not a huge soccer fan, but i can't help but be excited about the world cup. even our office gets into it, as they put a large flat screen in the café so everyone can follow along.
three. love this t-shirt from gap with has two interesting features: a worn-in i've-had-this-forever look and a lower, scoop back. will definitely be picking up more than one.

four. to be added to my coffee table book collection, this tome from dries van noten from his exhibition at the musée des arts décoratifs in paris.
five. if you haven't heard of the new fashion line, trademark, it should be on your radar. started by louisa and pookie burch (chris burch's daughters and tory's step-daughters), it's classic american sportswear with a modern twist. i love their take on the shorts suit that will work for the office and beyond. plus, the price points on everything is under $500.
six. swimsuits aren't exactly at the top of my shopping list (being in s.f., one rarely has a chance to wear one), but i love this two–piece from citrine swim for some upcoming tropical trips.

seven. the first of the two movies about yves saint laurent (called yves saint laurent) is out this month and based on the trailer, it looks fantastic.

eight. i can never seem to manage pen eyeliners, but after seeing the preview of the new benefit they're real push up liner, i think i may have found my foolproof option. sign up to be one of the first to buy.
nine. tonight the council of fashion designers of america hands out their annual awards tonight at alice tully hall. hosted by john waters, awards will be handed out in womenswear, menswear, and accessories, plus special honorees like bethann hardison (eleanor lambert founders award), raf simons (international award), and tom ford (geoffrey beene lifetime achievement). follow the hashtag #cfdaawards to get in on the action (i'll be interested to see who wears what), and watch the whole thing tomorrow on cfda.com.
vogue editorial: "the mvp" by steven meisel from u.s. vogue september 2005 scans from fanpop.com; yves saint laurent image via hollywood reporter