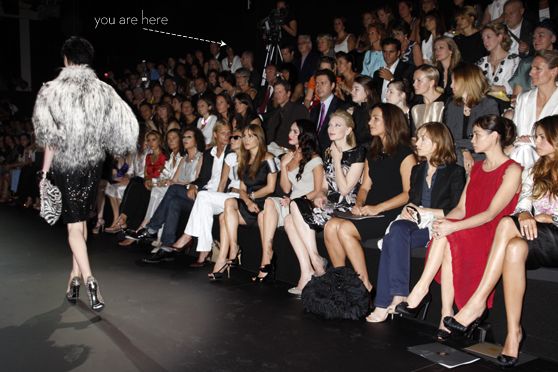 i've been attending fashion week since february 2004, when i was in graduate school and working on my thesis, designing a fashion magazine. it was going to have a section about upcoming trends, and i had just started the blog to help me with my writing. when the shows were at bryant park, it wasn't nearly the spectacle they are now. a fairly small group of people gathered on the steps to catch a glimpse of celebrities that used to make the trek to midtown to see a ten minute show, and the photographers outside weren't capturing most showgoers, but larger-than-life personas like anna wintour, sarah jessica parker, or winona ryder. i once had to tell a photographer who carine roitfeld was when he spied me taking pics of her.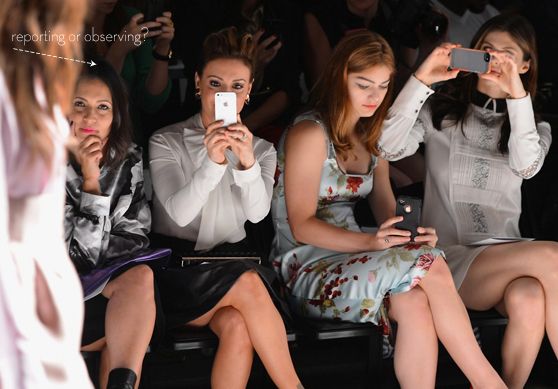 flash forward to today, and i've seen the proliferation of bloggers some of which have risen to elite status, now sitting side by side with the magazine editors and journalists i admire. i've been reading quite a few articles recently (here, here, and here) about not only the future of fashion week, but the relevance of bloggers at the bi-annual event, and speaking from my own experience, i can understand the frustration. at the end of the day, fashion shows are for press and buyers, and we're lucky to just have a seat at the table. while i witnessed some diva behavior from bloggers at fashion week (upset to be in *gasp* standing), it's wrong to assume all are like that. and just because some bloggers that attend shows use the same adjectives to describe the experience, to generalize that we don't know anything about fashion and can't form a unique opinion about a show is wrong too.
i do wonder why bloggers go to fashion week if it's simply attend some shows and photograph your looks, and what brands get out of those types of relationships. i want to hear more about the shows, the experience, the energy—what you liked and didn't like—in addition to seeing the personal style. maybe i feel that way because i never envisioned j'adore couture as a personal style blog; i'd like it to be about fashion in general in addition to my style. in other words, it can't be all about me.
at the end of the day, i like going to fashion week because i like seeing a designers' vision in totality—the atmosphere, the music, the hair and makeup, even the set design. even though i have been blogging for a while, i am still just happy just
to be in the building—like the time a lovely pr person took pity on me
waiting in ten degree temperatures outside a marc jacobs show and
allowed me to stand in the back. i still have my ticket from that fall 2004 show, and i still remember how magical it was. there's snark and cliques all around, to the point where sometimes i'm reminded of my high school cafeteria, but above all, i'm doing this because i love it and because i have an opinion that comes from a place of reverence and history of fashion. and this blog is my little place in the world to share that. at times, i think we all need to remember that this idea of inclusion at fashion week is fairly new, and many are still figuring out how it all works along the way. i believe the major part of that is "figuring it all out," with the first step for all involved being is it right for your brand.
personally, for me, it is. i didn't have the fashion week experience that i thought i would, which got me thinking about what i want from going. i've already started brainstorming some ideas to make it better for me and for you, the reader. and while i feel that criticisms reached a fever pitch this season, i'm nonetheless excited not only for february but how this whole thing will evolve. i hope you tag along for the ride.