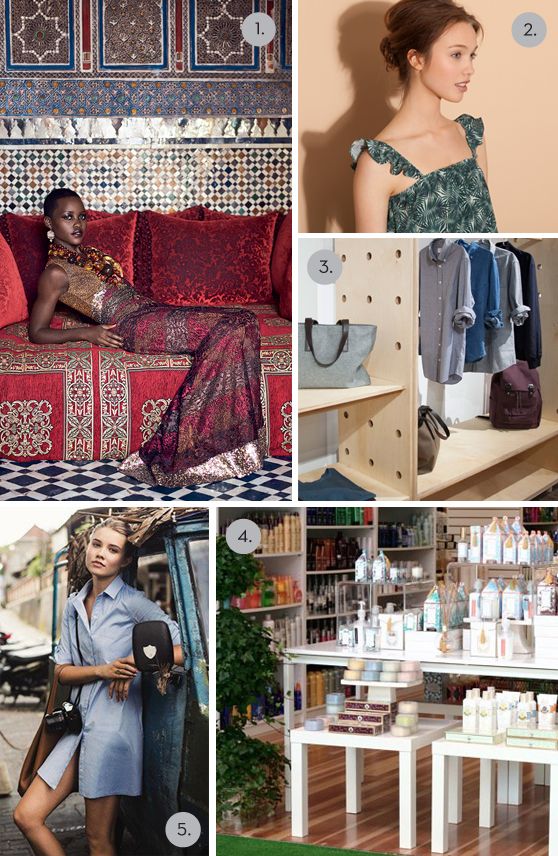 1. lupita nyong'o has landed a vogue cover and editorial, photographed by mikael jansson and styled by phyllis posnick. the oscar winner was shot in marrakech looking gorgeous in fall looks that didn't feel heavy or dark for july. of course, i wish she had nabbed the september cover, but so far this is my favorite vogue cover of the year. / 2. san francisco based brand, eco-fashion's amour vert
opens it's first retail store today in hayes valley at 437 hayes. not
only can you get their fab tees (that for every one purchased, they
plant a tree to help protect and restore forests), but their other great
pieces like jumpsuits, dresses, skirts, and bomber jackets. not in san
francisco? you can purchase online at amourvert.com and piperlime or at bloomingdale's in boca raton, santa monica, and willow grove, pa / 3. another san francisco based fashion brand everlane has popped up in soho until june 28. there are cool events planned from photography workshops to tastings with bon appétit, plus you can learn more about their products and where they come from. / 4. the beauty company in russian hill is hosting another one of their pampering series events, presented by la marca processo. enjoy food and drinks while checking out their newst product line, ziesche modern apothecary and mini spa treatments like mani-pedi's, brow waxing, and airbrush tanning. $35 gets you in and you'll go home with an awesome goodie bag. tickets available on giltcity.com. / 5. i'm a big fan of cuyana, and their newest collection, 'the essence of bali,' launched a few days ago featuring new jewelry, silk tops, and of course lovely bags and accessories. the lookbook, shot by jamie beck, is equally stunning.
have a great weekend!
photos via vogue.com, nytimes.com, amourvert.com, sfindiefashion, cuyana.com
1. on saturday, the sacramento street merchants association is sponsoring the outdoor market. from 10-7, enjoy sidewalk sales at lots of shops, including some of those featured in the sacramento street scene. hudson grace is having a sale, and luna boutique is hosting an ag jeans and frank & eileen trunkshow. / 2. also on saturday, rand + statler is hosting another lauren wolf trunkshow from 1 to 5. i had a blast talking to wolf last year, and this time you can sip champagne and get 15% off your purchase. / 3. the new christian louboutin boutique at 29 maiden lane is now open. it features not only the full women's and men's lines, but also handbags. don't say i didn't warn you. / 4. the new york times has a great feature on garance doré and how she's made a name for herself by relying on her own way of storytelling that's different from her storytelling partner, the sartorialist's scott schuman. / 5. while you're down in union square, check out the the sk-ii pop-up on post street to have a digital skin analysis. i went last week and it was so cool to learn more about my skin, including its visible age in five areas: texture refinement, radiance enhancement, firmness, wrinkle resistance, and spot control. you can test products (like their facial treatment mask) and get samples based on your skin concerns. oh and did i mention it's free? what better way to kick off the weekend than free pampering (the pop-up is there until may 23).
pic of garance doré via emsedge.elle.se, lauren wolf via rand+statler, chrisitan louboutin via sfgate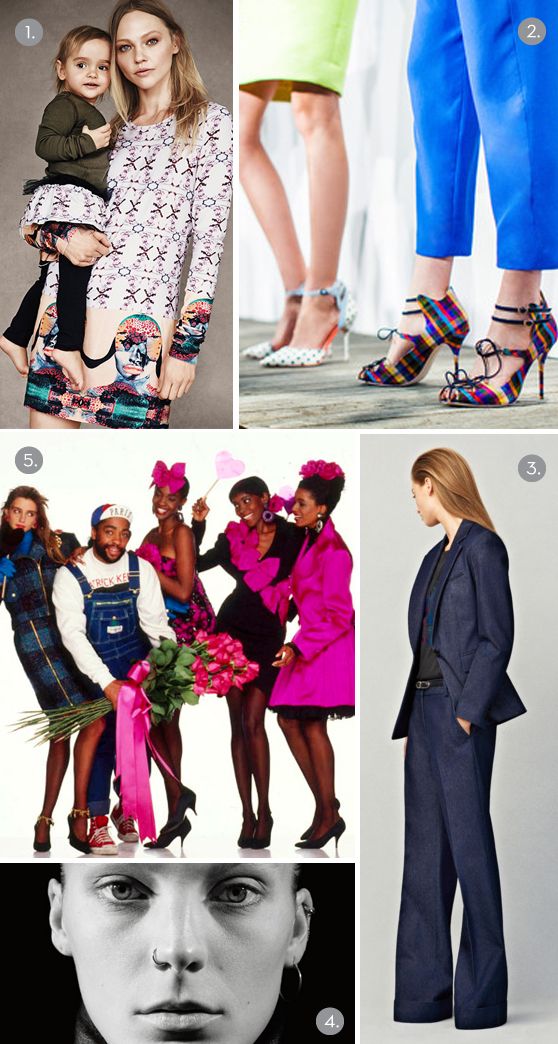 1. so many amazing pieces in the the shopbop + born free collection: 22 designers from marni, vera wang, dvf, prada and more made clothing for women and kids plus accessories and 100% of the proceeds go towards born free's mission to end mother-to-child hiv transmission at birth. / 2. remember seeing pics of the sophia webster for j.crew shoes on the runway last september? well it's finally in stores and online…but act fast; many sizes are already sold out. / 3. phillip lim's denim capsule collection is not your typical distressed, acid-washed fare: rinse denim takes on all kinds of silhouettes from this natty suit to a moto jacket to a convertible trench. / 4. i'm a bit behind on this one, but i finally picked up the latest issue of the last magazine, featuring daria by mikael jansson…her editorial and karlie kloss' are lovely and i'm a sucker for the oversized format. / 5. the first retrospective of famed african-american fashion designer patrick kelly called "runway of love" opens this weekend at my hometown philadelphia museum of art. kelly was known for bold, playful creations with a bit of 80s cheekiness. influenced by coco chanel and elsa schiaparelli, he was the first american and first black designer to be voted into the the french fashion industry association. tragically his life was cut short by aids and he passed away in 1990. the show runs through november, so check it out if you're in town.
have a fabulous weekend!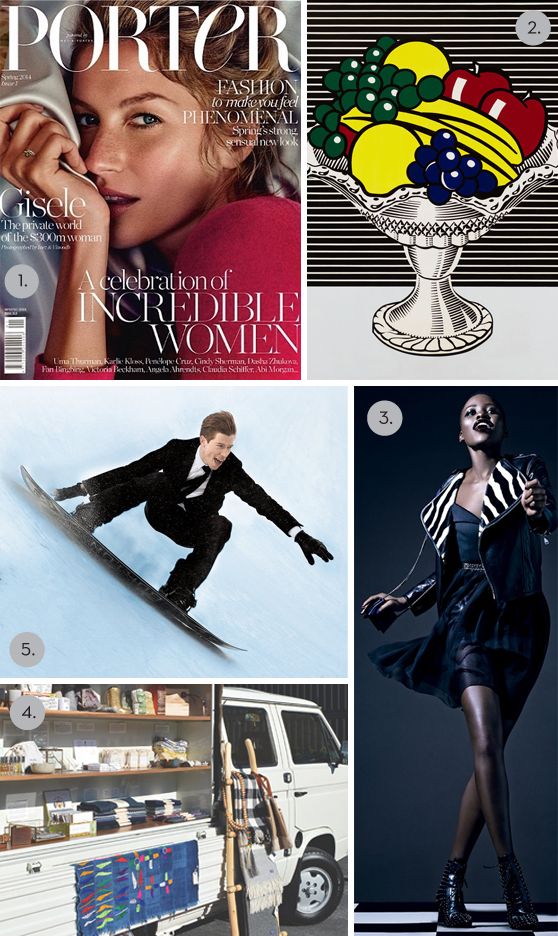 1. you know i love a good magazine, and two new ones are launching this spring. the editorialist, started by elle alumns kate davidson hudson and stefania allen, has a biannual issue out now that focuses on accessories trends and shopping guides. net-a-porter's porter, is a 6 times a year guide to fashion, beauty, culture and more, plus shopping. and you can't beat a fresh-faced gisele on the cover. / 2. while i'm in new york, i always enjoy checking out art exhibits, so i have to go see american legends: from calder to o'keefe at the whitney / 3. lupita nyong'o shines in february's vogue italia. it's a jam-packed issue with the iconic sofia coppola on the cover and editorials featuring mariacarla boscono, hilary rhoda, guinevere van seenus and more. hoping lupita will get a cover of her own soon. / 4. if you're in san francisco, this weekend check out the half hitch goods + abacus row jewelry rolling pop-up (yes, in the back of a vw vanagon!), which will be hanging out in hayes valley. / 5. sooo excited the olympics are finally here! i will be cheering on shaun white who will be going for his third straight gold medal in the superpipe. i'll also be watching skiing superkid mikaela shiffrin and track-to-bobsled stars lolo jones and lauryn williams.
photos via the new york times and whitney.org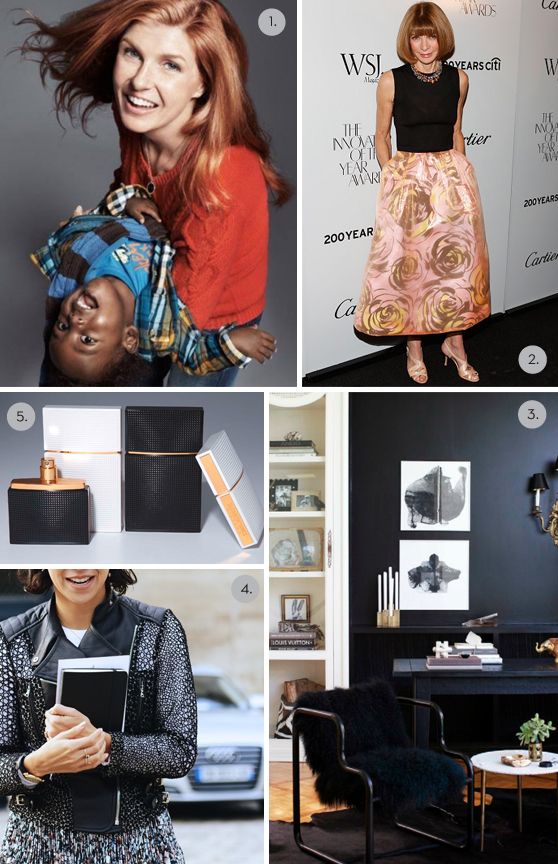 1. gap's holiday ad campaign features celebs and their loved ones, like connie britton and her son yoby…how cute! this tuesday, you can shop the new holiday collection (at a great discount) with the rue team along with two of my blogging ladies erin and julia. there will be good music, food, and cocktails, a wrapping station, and i'm sure a kick-ass photobooth. check out the invite and make sure to rsvp. if you aren't in sf, there's other events going on across the country. / 2. career advice from anna wintour? yes please! / 3. speaking of rue magazine, the november issue is one of the best yet. i love the peek into nate berkus and jeremiah brent's home and kelly wearstler's studio. / 4. not sure how i missed this documentary on street style photographer tommy ton, but it's a must-see. / 5. you can have mary-kate and ashley olsen dress you, accessorize you, and now make your fragrance. two scents, nirvana white (sensual with violet, sandalwood, and vanilla) and nirvana black (musky with peony) under the elizabeth & james moniker, will be available exclusively at sephora just in time for your holiday wishlists.
have a lovely weekend!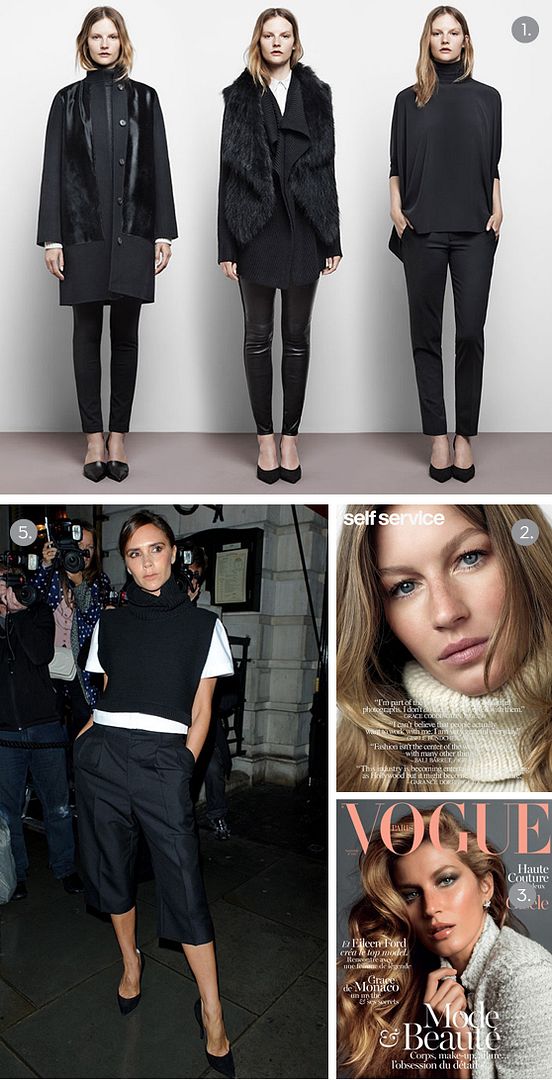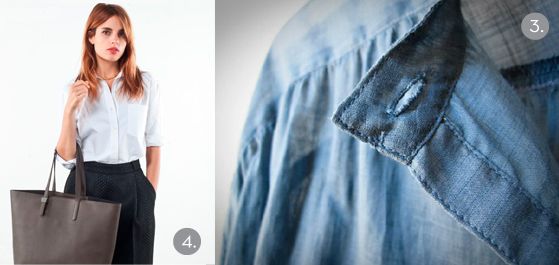 1. even though the shopbop friends and family sale has ended, there's lots more f&f savings to be had. kate spade, jack spade, kate spade saturday, saks (25% off), 7 for all mankind, kenneth cole, and vince (use code FRFM13) are all offering 30% off this weekend . after seeing the vince fall collection in august, and checking out their holiday lookbook, there are so many pieces i'm drooling over. / 2. gisele graces the cover of two mags, self service and vogue paris this month, and i love them both for difference reasons. on self service, she looks young and fresh faced, like i imagine her on the weekends with tom and the kids (see the entire editorial). vogue paris (contents preview) turns her into an 80s-esque dynasty diva, complete with frosted shadow and a glossy nude lip (and some chanel couture). / 3. husband and wife team josh and lauren podoll have opened their new flagship store (at 251 primrose rd., burlingame) for their eco-conscious line, the podolls. they use natural fibers like hemp, linen, cashmere, silk, and more to create drapey tops, cozy knits, sleek pants and more. even better? everything is made in the u.s. / 4. everlane is releasing their first collection of premium leather bags called petra. like everything else from everlane, the bags have a quiet luxury—made in peru, minimal detailing, and limited to a run of 1000. sign up here to get on the waistlist, which opens next month. / 5. in my post on my fall style inspiration, i spoke of my newfound love for wide leg cropped pants, and what do i spy earlier than victoria beckham rocking the trend. i love her layering of a chunky vest over a tee, and finished off with pointy toe pumps.
have a great weekend!
i had a great time on tuesday at the modern citizen sample sale and sweet and spark trunkshow. jillian has such a great eye for vintage jewelry. i scored this dynasty-esque black and gold pair that i wore yesterday to the dsw lunch and the tiffany atlas party. jillian is now taking the sweet and spark tour on the road with trunkshows all around the country. see if she's coming to your neck of the woods and rsvp on facebook. / 2. i'm normally not one to get manicures (i do them myself, usually for a special occasion), but i was treated to the delux 35 mani at lux sf, a new salon in hayes valley earlier in the week. after a sudsy bath and cuticle care, my hands and arms were treated to a bliss blood orange and white pepper scrub (they are the only salon in sf to use bliss products outside of the bliss spa) followed by a soyaffin wrap (made of shea butter, beeswax, soy and antioxidants—and no petroleum), massage and a pretty oxblood polish (they sell their own 3-free line). needless to say a girl could get used to this! / 3. coach's fall collection is a plethora of lush fabrics and rich colors and textures. this coat is already on my wishlist. / the first retrospective of the work of the famed jewelry house bulgari opens tomorrow at the de young museum. "the art of bulgari: la dolce vita and beyond" focuses on the work from 1950 to 1990 and features 150 pieces from the private collections of elizabeth taylor, dede wilsey, and denise hale. / 5. simon doonan will be making a stop at barneys san francisco signing copies of his new book asylum: a collage of couture reminiscenes…and hysteria, which i haven't started yet but heard is amazing. i had the chance to meet him back in the day when the sf store first opened and he's as funny and kind as
have a wonderful weekend!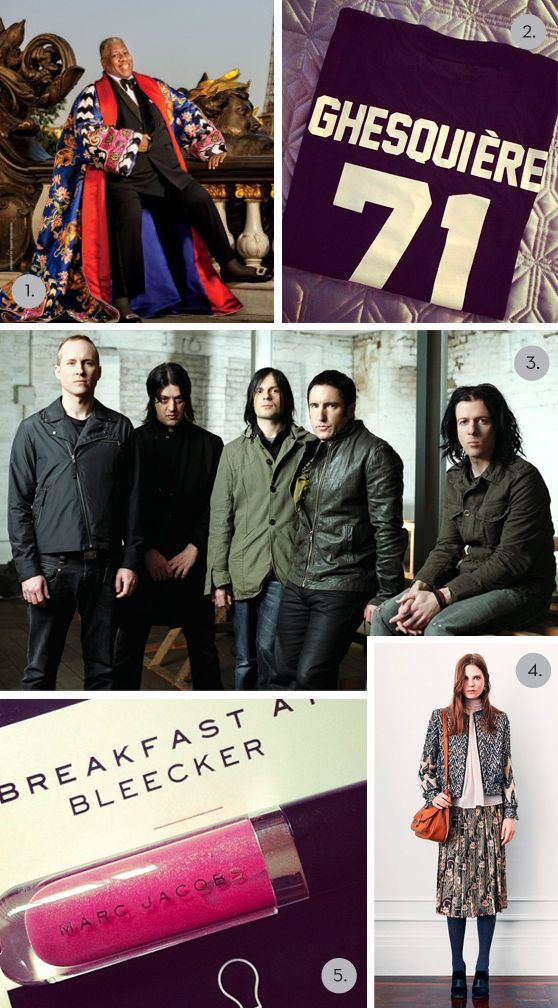 1. the september mags have started being packed into my tiny mailbox and i'm deeply into vanity fair, especially the features on michael kors (check out the behind the scenes video) and andré leon talley. / 2. i just had to get one of these "ghesquiere" t-shirts from net-a-porter. they've got lots of designers to choose from, like tisci, philo, margiela, wang, and more. / 3. so excited that nine inch nails is back and playing outside lands this weekend. not looking forward to the crap weather, but at least there will be good food and music. / 4. totally coveting this look from the tory burch fall lookbook. the colors, the textures…and the dragonflies! / 5. marc jacobs beauty launches today at sephora and marcjacobs.com. i'm looking forward to checking out the new boutique when i'm in new york next month. this lip gloss is the perfect shade of pink and it really lasts.
have a great weekend!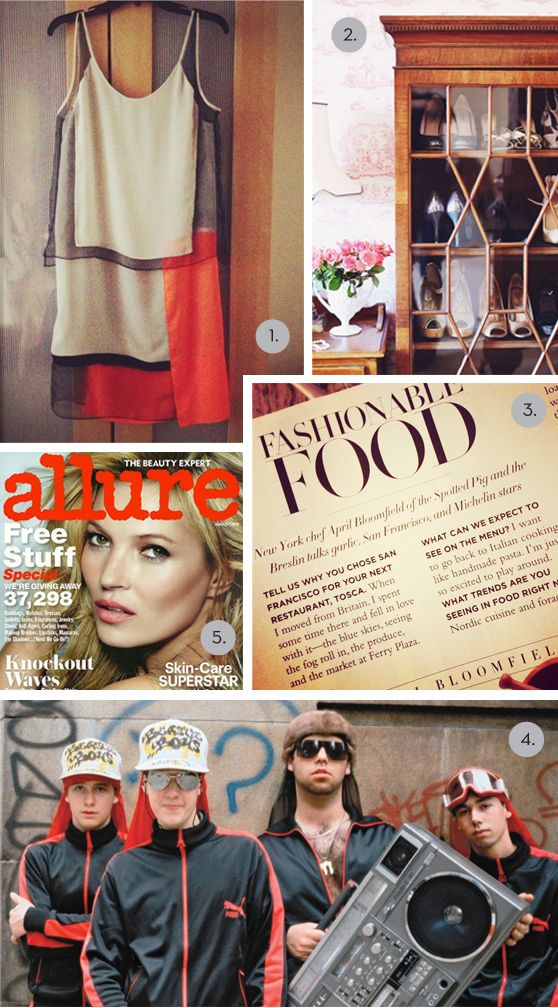 1. i didn't really go crazy during the summer sales, but i did get this helmut lang dress that i had my eye on for a while. / 2. this is glamorous (and a glamorous little side project) are two of my favorite blogs, and i love getting a peek into roséline's home on design sponge (and her cool way of storing shoes). / 3. to say i can't wait for the new tosca, helmed by april bloomfield of the spotted pig and the breslin is an understatement. harper's bazaar had a short interview with her in the august issue, along with her recipe for summer tomato soup. / 4. rick rubin has worked with some of rap's early pioneers—the beastie boys, run d.m.c., and ll cool j— not to mention adele, johnny cash, and the red hot chili peppers. in this interview with the daily beast, he talks about his long career and recent collaborations with jay z and kanye west. / 5. how beautiful and fresh does kate moss look on the cover of august's allure? very seasonally appropriate at a time when most fashion mags are going heavy for fall.
wishing you a wonderful weekend!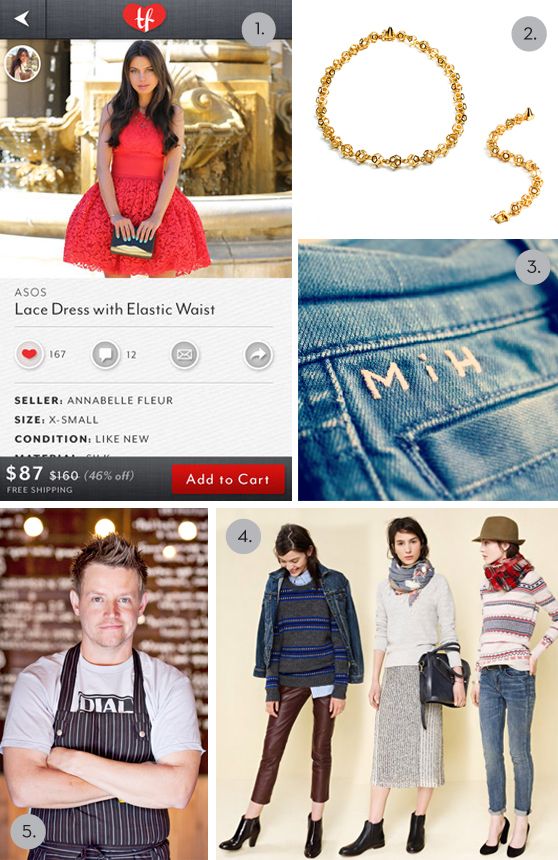 1. i've posted about threadflip before, but the company has just launched version 2.0 of their phone app. now there's pinterest integration, better search functionality right from the homepage, and a universal shopping cart (just like your favorite online store). check out my closet and get 15% off when you download the app. / 2. tomorrow, jewelry designer eddie borgo is making an appearance at neiman marcus san francisco to show off his latest colllection. the event runs from 10-5 and borgo will be there from 1-4pm. i love the caged nova collection (shown); it's perfect for everyday. / 3. want to make you jeans truly your own? add a monogram. mih jeans is now offering monogramming by hawthorne and heaney, british hand embroiderers with 15 years experience, on any pair of jeans. it's $55 for 3 letters for either script or block in your choice of colors. check out their video on the process here. / 4. madewell's fall lookbook is chock full of stylish yet un-trendy pieces that you'll want to wear year round. start building your wishlist now. / 5. tomorrow the hubs and i are heading down to golden gate park to check out the first ever cultivate festival sponsored by chipotle. we're most excited to see the chef demos from michael chiarello, top chef's richard blais, and former spqr executive chef nate appleman, but there's also a tasting hall, artisan foods, and a kids' zone. oh and did i mention it's free?
have a great weekend!
1. of course when i finally get something from saks' friends and family sale, it was one of the designer exclusions. fell in love with this clutch the instant i saw it. / 2. making good use of the butter dome and ash wood base i bought at the hudson grace spring/summer preview on wednesday. not only is it a fine butter or cheese holder, it's also nice for showing off my favorite baubles. / 3. it's resort (aka cruise) runway season and of course chanel kicked it off with a bang with a show in singapore and a short film starring keira knightley. the collection had a very summery palette of black, white, navy, and grey—i loved this shorts look with a longer cardigan. / 4. just picked up this book from anthropologie. even though i already have this other parisian style book, the new one has fun sketches and interviews with women from all walks of parisian life. / 5. a model is back on the cover of vogue, and this time it's the love-her-or-hate-her kate upton. personally i'm happy to have a model rather than a celeb, and she looks gorgeous in the accompanying editoral.
wishing you a fabulous weekend!
1. banana republic presented their fall collection yesterday to the press and it's simply stunning. narciso rodriguez worked with creative director simon kneen on the line, which featured flippy skirts, faux fur popovers, skinny cords, and pretty monochromatic dresses. tabitha simmons' styling for show was spot on. also new up for the brand? a collaboration with kate middleton-fave issa. / 2. it's friends and family time of year…last week it was bloomingdale's, this week sephora, rebecca minkoff, vince, and kate spade (and saturday) get in on the fun. i'm loving this textured hologram version of the ks classic "licorice" pump and this neon wedge. / 3. of course refinery 29 co-founder christene barberich has a home as fashionable and chic as she is. the photos by natalie joos don't hurt. and i spy a pair of shiny ponies. / 4. one of my favorite shoe designers pierre hardy has teamed up with nars for a beauty collection. six nail polish duos inspired by his summer shoe collection (the polishes even come in a mini shoe box with dustbag!), plus two blushes stamped with the signature hardy 3d square design will available starting may 1. / 5. a highlight to the end of my (last) week was being featured on independent fashion bloggers' list of fashion bloggers to follow over 40. thanks so much to the ifb team and grechen in particular…please check it out and visit the other fab ladies on the list.
have a wonderful weekend…it's the first weekend of the cherry blossom festival which is always lots of fun!
banana republic pic from instagram.com/coralsncognacs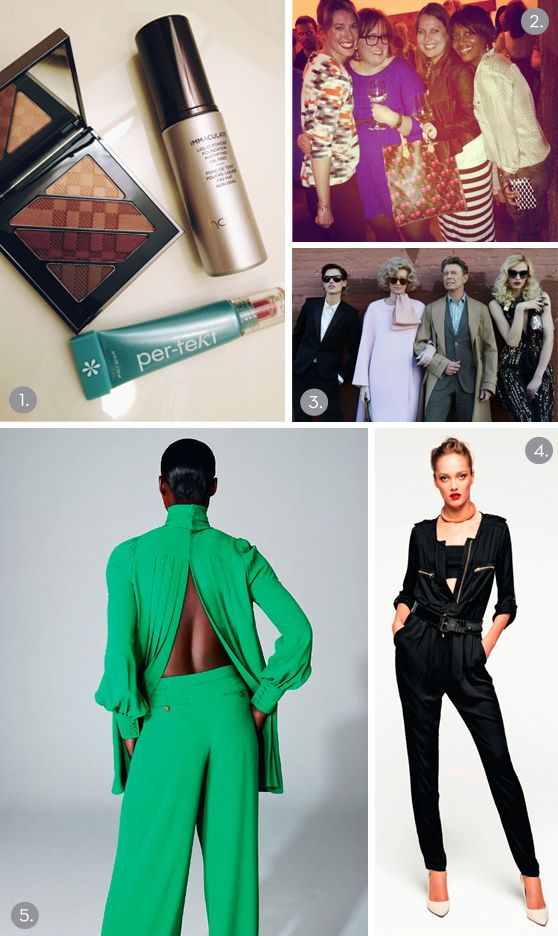 1. new beauty favorites: the quad palette from burberry eye palette in 06 plum pink, hourglass immaculate liquid powder foundation (in new darker shades) and perfekt cheek perfection gel. / 2. there's something to be said about the power of girlfriends…i've made such amazing women through blogging that have become treasured friends in real life. / 3. have you seen the new david bowie video for "the stars (are out tonight)?" it features tilda swinton, saskia debrauw, andrej pejic, and iselin steiro (as a young bowie)…prepare to be amazed. / 4. maybe i'm crazy, but i kinda love this mango jumpsuit…would be perfect for a night out or weekend brunch. / 5. the new issue of the gentlewoman has some pretty gorgeous editorials inside, including ones with saskia debrauw (she's everywhere!), iselin steiro, nadja bender, and this one with janeil williams.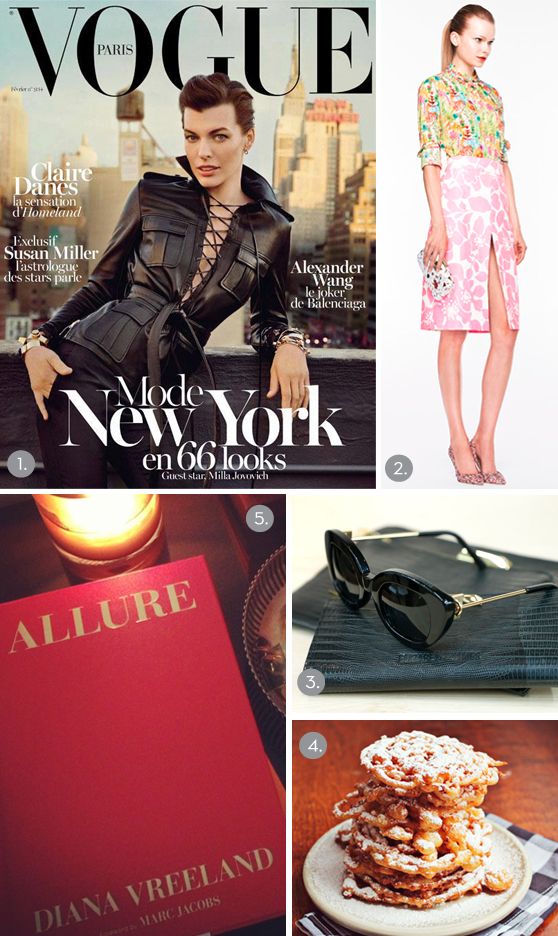 1. after seeing preview's online, the february issue of vogue paris is a must-buy. the entire mag is devoted to manhattan, including interviews with alexander wang and editorials featuring anja rubik, natasha poly, and more. / 2. j.crew's spring lookbook is online and ready for pre-orders. my favorite look: this printed leather skirt…wow! / 3. excited that elizabeth and james is expanding into handbags and small leather goods. what's nice is the price point is going to be (much) more affordable than the row, with prices starting at $195 for accessories and $395 for bags. / 4. homemade funnel cake recipe, just in time for the super bowl! / 5. been re-reading allure and d.v. (her autobiography), and can't put either down.
have a fantastic weekend! so ready for the super bowl (but not the end of football)!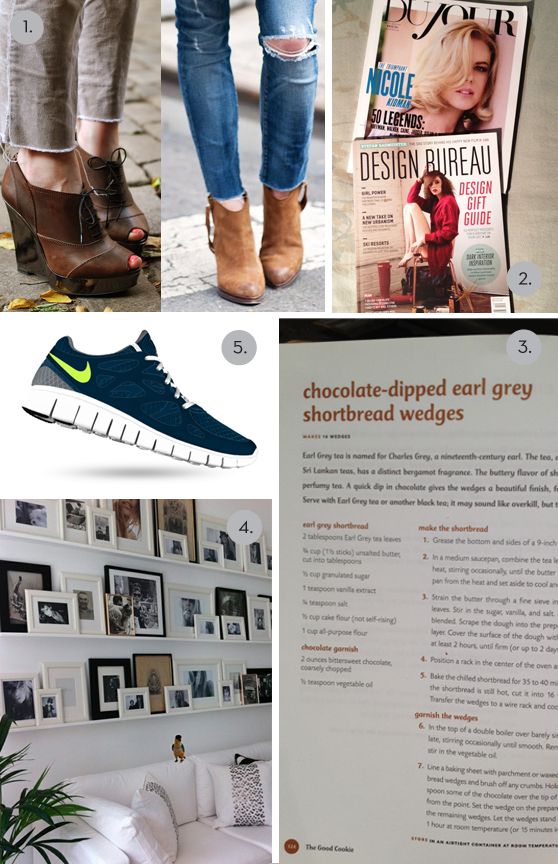 1. there's something cool and modern about chopping the hem off your jeans (or cords). it's also a way to save on hemming if, like me, most jeans come way too long. / 2. two magazines i discovered before my recent trip: du jour (i read the first issue online and was happy to find the print issue), and design bureau (graphics, interiors, architecture, and fashion in one magazine). / 3. two of my favorite things together: shortbread cookies and earl grey…going to try this recipe over the weekend. / 4. one of my goals for the new year is doing something with all the art we have. this gallery wall idea is perfect for our living room (and i'm adding more inspiration on pinterest). / 5. a new year means new running shoes, and i'm finally giving the nike free a try.
hope you all have a fabulous weekend!
street style pics from atlantic-pacific and sea of shoes; gallery wall via pinterest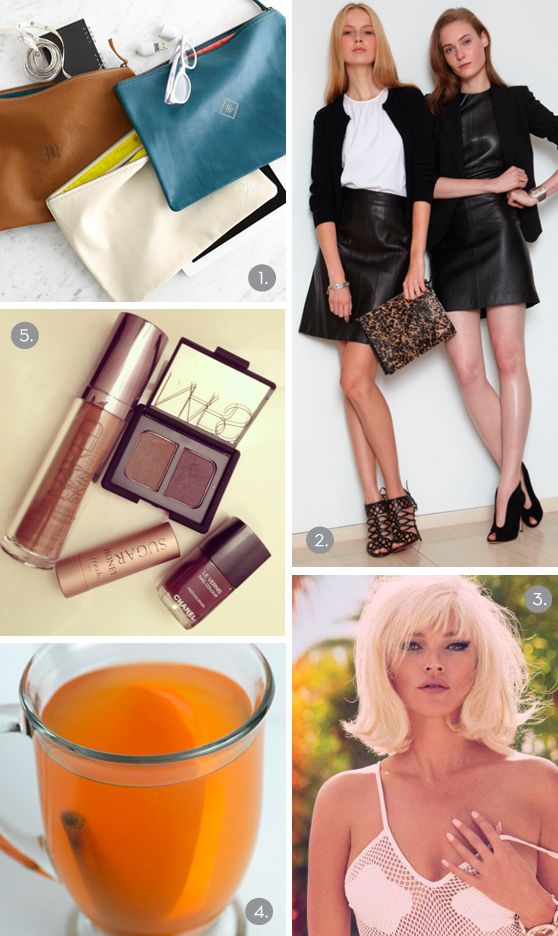 1. type and cool products together are a match made in heaven and since i love monogramming things, mark & graham is definitely going to become a favorite. it's also a perfect gift destination with the holidays coming up. you can put your choice of monogram on anything for free, and pieces come wrapped in an elegant gift box. / 2. the barneys new york fall collection is full of gorgeous clothing…leather skirts, cashmere sweaters, crisp shirting—all in a palette that can easily play with everything else in your wardrobe. / 3. the december issue of vanity fair features not only an in-depth interview with kate moss, but also articles on tory and chris burch, truman capote, the restoration of the new york public library, and downton abbey (which i've never seen). / 4. looking forward to afternoons sipping hot cider and watching football / 5. some of my recent beauty favorites: urban decay naked skin, nars duo eyeshadow in brousse, chanel nail polish in provocation (from fashion's night out 2012), fresh sugar honey lip treatment.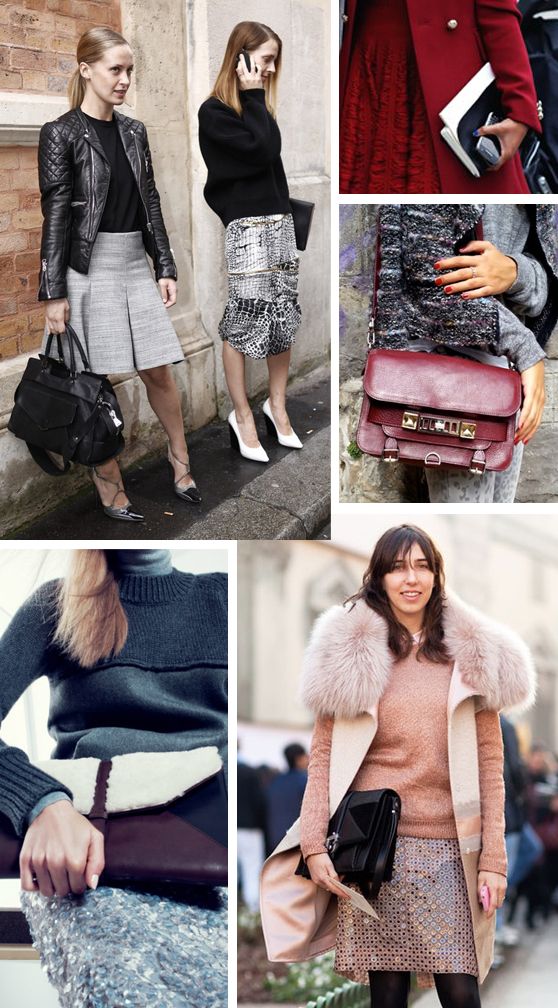 a different sort of friday five today…based on some fall dressing inspiration. fall hasn't quite hit yet in san francisco (in fact it was in the 80s today), so i've still got some time to figure out what i need in my wardrobe. these are a few of looks that have jumped out to me…the black and white looks on victoria and vanessa traina are especially top of mind. but right now, i am looking forward to soaking the last bit of this indian summer via a day trip to napa this weekend. happy friday!
photos from vogue.es, alltheprettybirds, harpers bazaar, they all hate us (via pinterest), and jcrew.com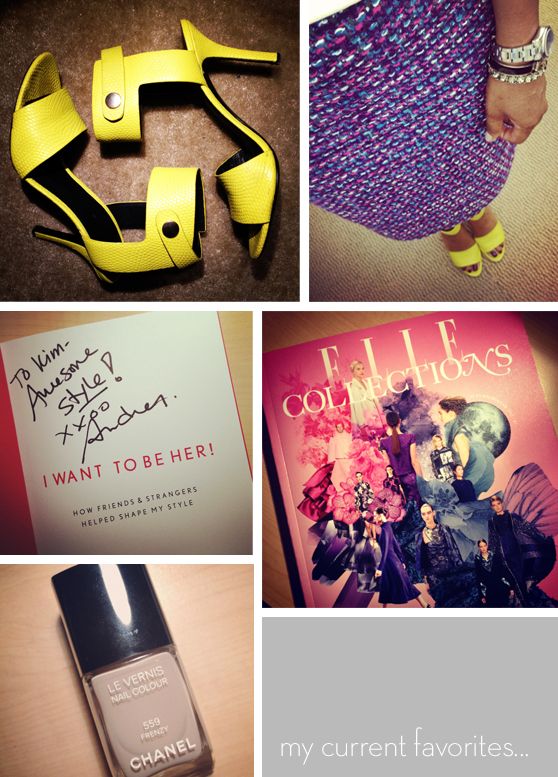 some of my favorite things recently (clockwise from top left)…
alexander wang "amber" sandal in acid: i have become somewhat of a wang shoe fanatic…they are stylish, super comfortable, and are fairly affordable compared to my other shoe go-to's, prada & miu miu.
j.crew no. 2 pencil skirt in multicolor tweed: going hand in hand with neon shoes is this neon tweed skirt that i picked up last night (with the extra 25% off). if you can, check out your local store, where you get the extra discount and you can return sale items (the skirt is online, but part of final sale). the 25% off ends sunday night…still have a few more things on my wishlist.
elle (uk) collections magazine: although i'm still highly obsessed with the vogue paris collections issue, this has become a new favorite. it's slimmer, but has more original content, like a piece of hedi slimane and raf simons, features on street style and the best show invitations, and more.
chanel frenzy nail polish: i was on the fence about this color,
but then i saw it again on the lucky shopping trip and realized i had to
have it. since i don't usually do a manicure, it's the perfect fall
neutral that makes my nails feel "finished."
i want to be her by andrea linett: last night was the mira mira ladies night where linett was the guest of honor. it was so nice to chat with her (still can't believe what she wrote in my book!) and to catch up with mira and some other fab ladies. i'll be diving into this over the weekend, and check out the website the book is based on if you haven't already.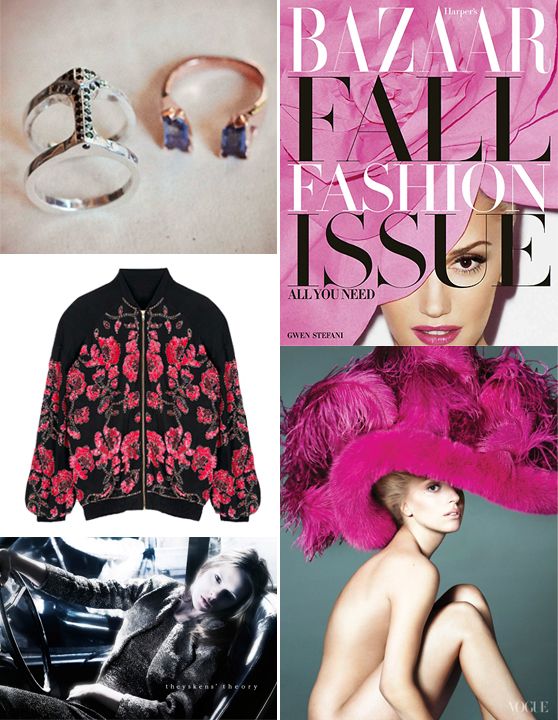 1. how amazing are these rings? the bona drag ceremonial collection features dresses from mara hoffman and lindsay thornburg and jewelry from anna sheffield, pamela love and bliss lau (who make the set shown). / 2. + 3. clearly glenda bailey and anna wintour were on the same wavelength—oversized pink hat plus a stylish blonde singer equals september issue goldmine. / 4. love the comeback of elise crombez, who is the face of theyskens' theory for fall. / 5. this jacket is kind of crazy but kind of awesome.
gwen stefani photo from beaconstreetonline.net; lady gaga photo from vogue.com