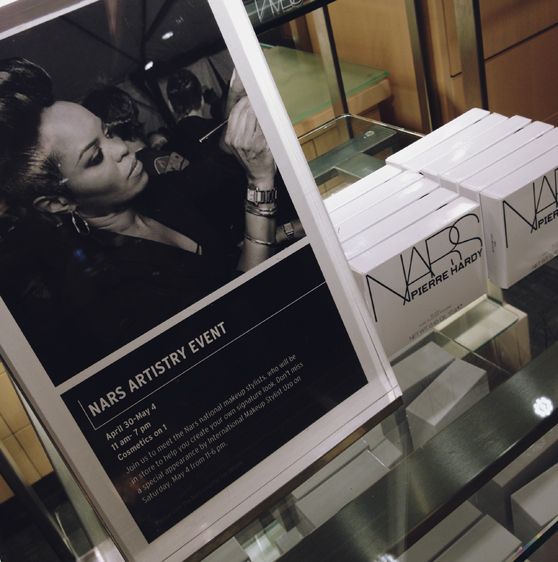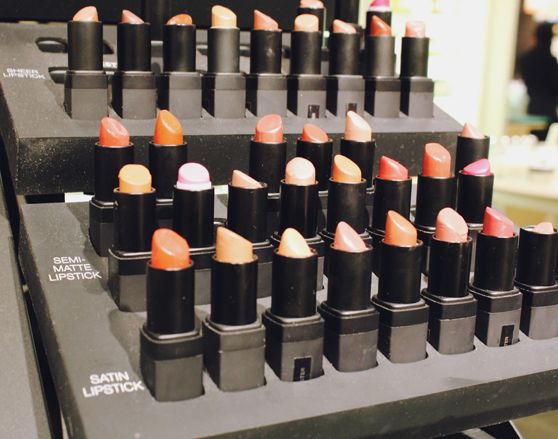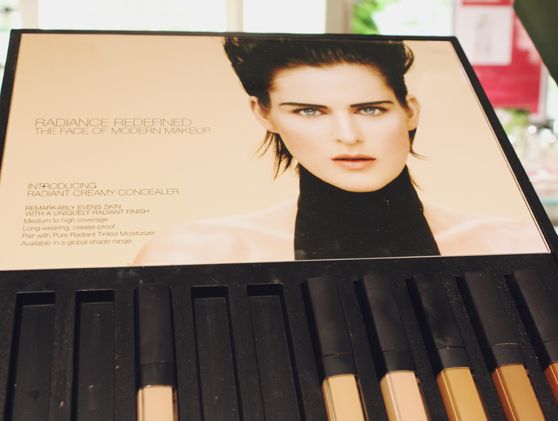 nars has long been one of my favorite makeup lines, not only because of their dedication to producing products in a range of colors for all shades of women, but also the fact that françois nars values design, partnering with fabien baron on typography and packaging. so when my friend erin (who happens to be a nars artist at nordstrom san francisco) told me about an event the store was hosting with uzo, nars' international lead makeup stylist who has done makeup for shows like marc jacobs and rodarte, music videos, and personal clients like olivia munn and naomi campell, i knew i had to check it out.
the event, called "the face of modern makeup" is a chance to revitalize your look, try something new, or see some of the new products from nars, like the radiant creamy concealer (with light diffusing particles) and the satin lip pencils. uzo would then stop by each chair and offer suggestions on bringing out the best in your features based on your skintone.
my artist did a wonderful job of making my skin look fresh and not like an oil slick. he even showed me a few new tricks, like using one of the multiples under foundation for an extra glow, using foundation as an eye shadow primer in a pinch, or that a dry kabuki brush is perfect for blending foundation and really working it into the skin. on my face, he used the pure radiant tinted moisturizer along with some bronzer, foundation powder, and a bit of blush on the apples of my cheeks while the eyes were a creamy bronze with black liner. when it came time to do the lips, i said i wanted to try the new satin lip pencils in a bright shade, so he mixed a shocking pink with a true red which i loved. when uzo first came by my chair, the artist mentioned that he noticed a whitish cast near my jawline. she said that some powders that have a SPF in them can cause this on darker skintones, so she recommended i try a powder from bobbi brown. that really left me with a positive impression of her and the company—she wanted to make sure i looked and felt great, not pushing her own brand.
although she thought i looked beautiful with the brighter lip, she suggested i go with a darker one. it looked amazing on her—her face was minimal with a strong brow, black liner and mascara and a dark lip—so i was willing to give it a try. my artist mixed the same garnet lip pencil from before with an aubergine. when uzo returned, she loved the result, and said i may like a dark gloss as well (which i ended up getting).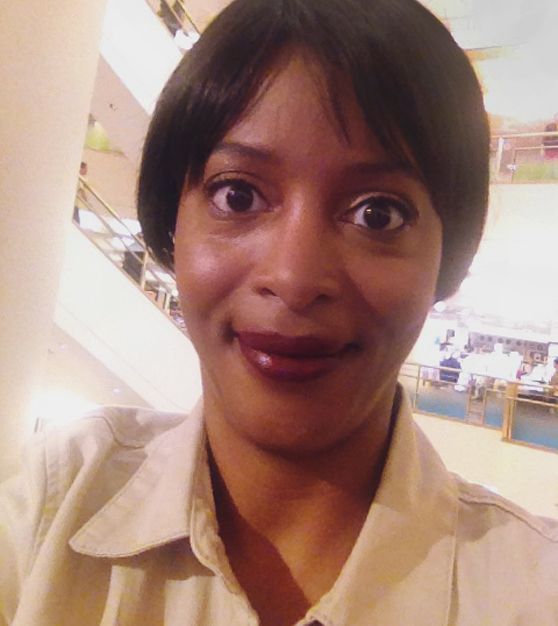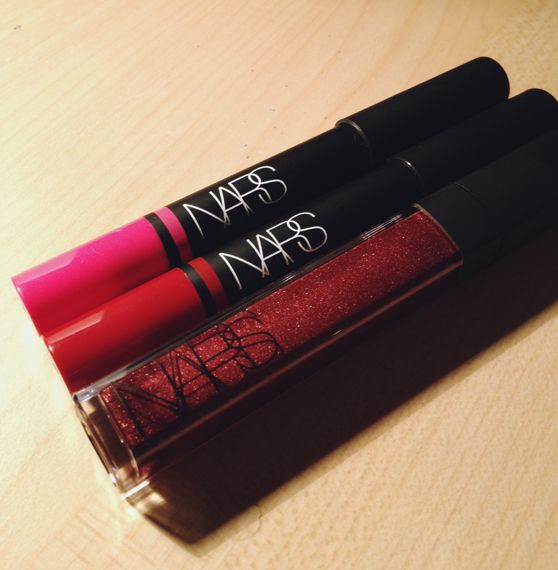 overall i had a wonderful experience and even wore the look to a dinner out with a friend (who thought the darker lip looked really nice). if you're in san francisco, definitely stop by the nars counter at nordstrom in the san francisco centre and ask for erin. she can help you find a great look or you can see all the new products (including the collaboration with pierre hardy). there's another nars event coming up on june 1 in conjunction with the nordstrom beauty trend event (i'll be attending the latter). and although i'm not totally convinced on the darker lip, at least the gloss is a baby step in that direction.
my final look; nars satin lip pencils in yu and majella, larger than life lip gloss in rouge tribal