my beauty routine is pretty constant, even if my makeup is not. i battled acne, dark spots, and scarring for most of my youth, and now (finally!) seem to have it under control, but it's not without diligence in taking care of my skin. here's a peek into my medicine and beauty cabinet…i'd love to hear more about your beauty tips and tricks.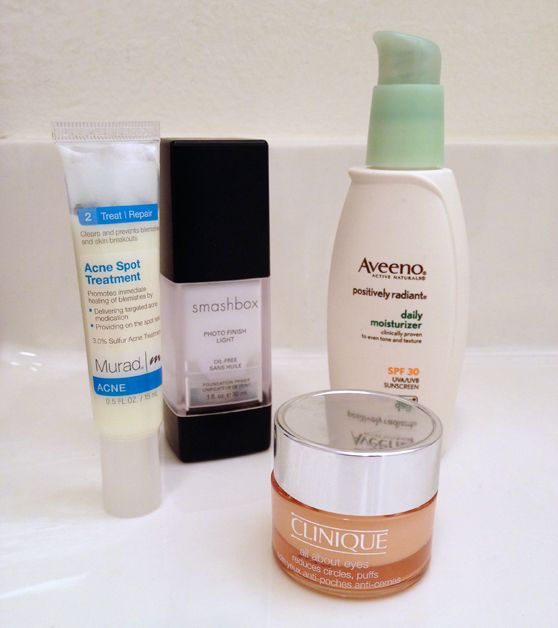 murad acne spot treatment: reduces blemishes without drying by using sulfur instead of benzoyl peroxide or salicylic acid.
smashbox photo finish light primer: this primer is 60% water based, so it won't irritate my already oily skin.
aveeno positively radiant daily moisturizer: i've tried many a moisturizer and this one has been my mainstay for the past few years. doesn't clog pores, spf 30, and light diffusing particles to really make your skin look great without makeup.
clinique all about eyes: the only eye cream i've ever used. soothes and helps makeup stay in place. also comes in a rich formula if your eye area is especially dry.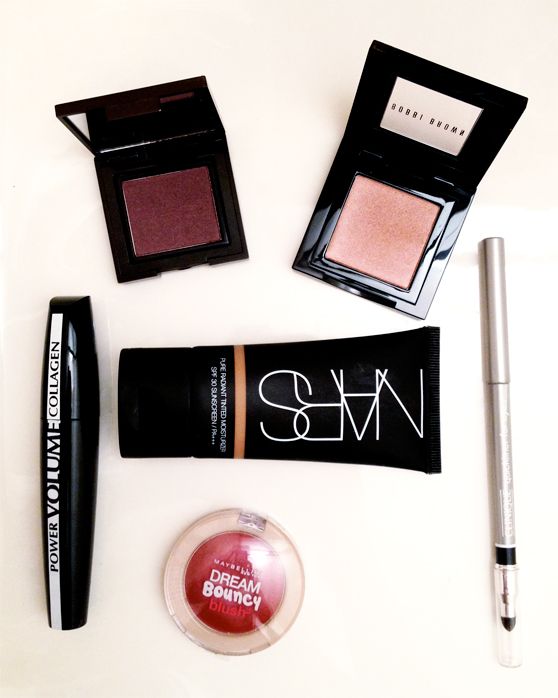 laura mercier kir royale shadow and bobbi brown rose gold shimmer wash eyeshadow: i have been known to stay in the bronze tones with shadows, but i've been trying to go outside my comfort zone. these look great on my skintone. kir royale is a luminous deep aubergine that works day or night. the rose gold works as a wash across my entire eye, or just under the browbone with kir royale.
nars pure radiant tinted moisturizer: the best tinted moisturizer i've tried in a while comes in an array of shades from light to dark, has spf 30, and improves skin's tone and texture over time.
clinique quickliner for eyes in new black: "new black" is really a dark grey color which is less harsh on me, especially during the day. the soft texture is nice for gentle or sensitive lids and has a built-in smudger.
l'oreal voluminous power volume collagen mascara in blackest black: i am a self-proclaimed mascara junkie, with 5-6 in my rotation at any given time. i keep reaching for this one again and again—it's got a full brush, lightweight formula, doesn't smudge, and comes off easily.
maybelline dream bouncy blush in plum wine: i bought this on a whim when it first came out and now i have one at home and one at work for quick touch-ups. love the velvety texture.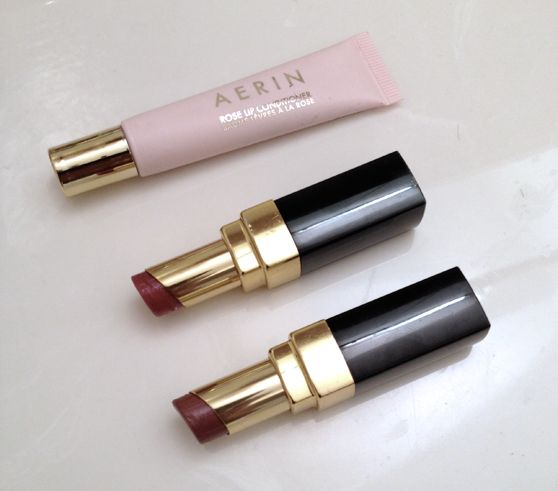 aerin rose lip conditioner: i received a free sample of this when i was in new york last september, and it's been in my makeup bag ever since. not too sticky with a fresh scent and long-lasting softness.
chanel rouge coco shine in bel ami and bonheur: i'm already on my second tube of bel ami, a nice rosy neutral, and bonheur (sheer fuschia) was the first bright lip color i've tried. love the texture and long lasting color.
not shown:
aveeno smart essentials pore purifying facial wash: soap-free with antioxidants and doesn't leave a residue.
ponds luminous clean wet cleansing towelettes: i swipe my face with these at night before bed; the white kaolin clay really cleans but is still moisturizing.
benefit eye zing brow kit: my brows are sparse and a bit unruly…this keeps them in place all day and looks natural.