we're just about on the cusp of the fall/winter 2014 collections (the men's shows start today in london, and the women's in about 30 days in new york), but pre-fall previews keep rolling in. here's three more that have been on my radar, not only as i think about my fall shopping list, but what looks i can recreate with pieces already in my wardrobe. see more of my pre-fall picks and more of my favorite runway looks on pinterest.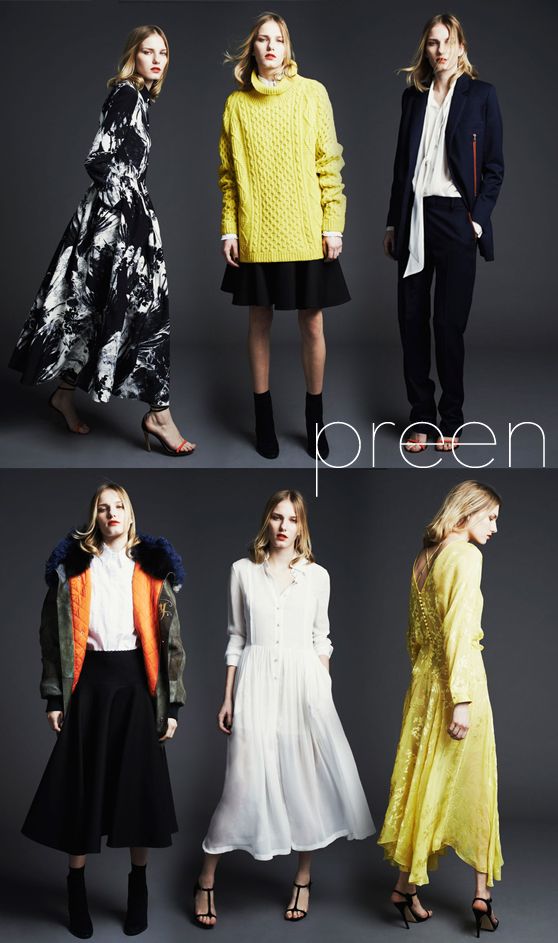 what i loved about preen were the punchy, almost flourescent colors (i love the acid yellow which popped up in a chunky knit sweater and a longer silk dress), the longer hemlines in general, and the texture, which was either overt (as in lace or shearling collars) or more subtle (where texture was used as floral or bird prints).
in the past, theory was theory (with olivier theyskens as creative director) and theyskens' theory (which was a bit more avant-garde, but still very wearable). with pre-fall, there's only one theory, and it's a mix of both of the lines. as with most things theory (and by extension, theyskens), the collection is mostly black, white, and grey with lots of cropped pants (either with a slimmer or wider leg), thicker knitwear, and suiting. but there was more inventive silhouettes, like leather pieces, beaded evening wear, skirts done in a transparent plaid.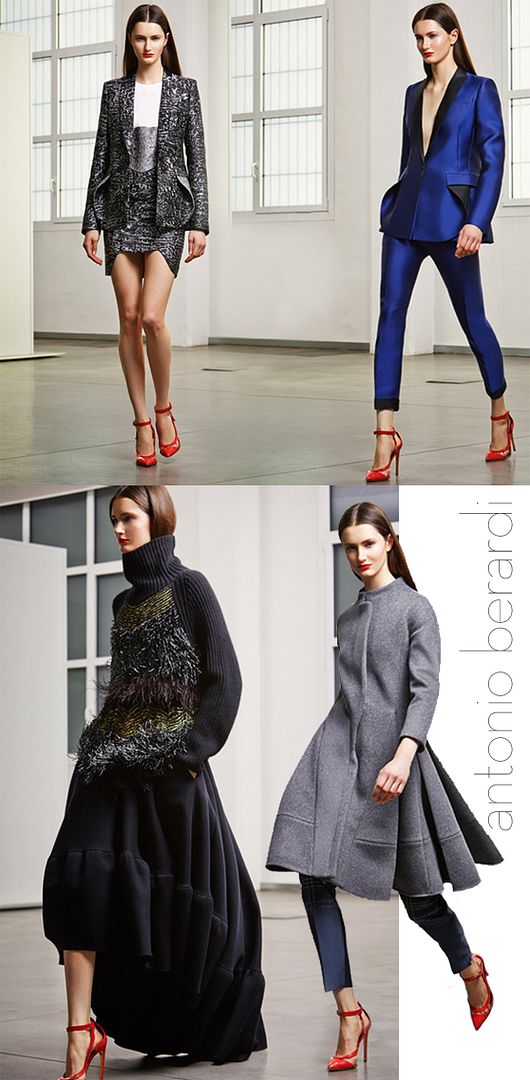 i only discovered antonio berardi recently (i loved his spring 2014 show), and pre-fall is equally impressive. hi-low hems were a theme that ran throughout the show, with capes and coats paired with ankle pants, or a floor dusting skirt matched with a chunky fringe turtleneck. for those not into volume, there were also fitted minis and strapless dresses, and skinny suits. i wasn't loving the bright plaid section about midway through, but the rest of the collection is feminine and modern—as was the red leather and plastic ankle strap pump worn with all the looks.
all pics from style.com