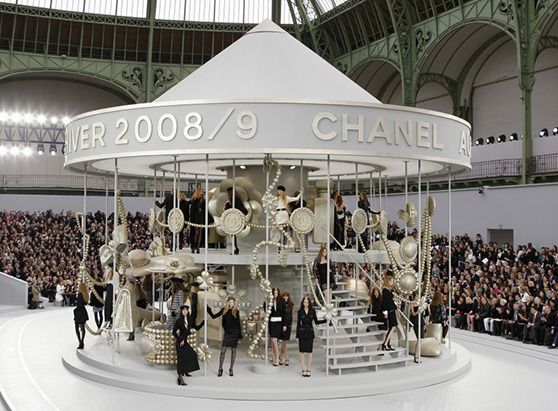 a literal merry-go-round of fashion; the scene from the chanel f/w 2008 show
fashion week month started a few days ago in new york, and what fashion week means seems to be at a crossroads. alber elbaz and raf simons left lanvin and dior respectively citing the "endless merry-go-round" of fashion and the stifling of creativity as part of their reasoning. while i love the notion of seeing something new, i also understand as a creative person that it's hard to constantly be creative. designers are tasked with doing not just spring/summer and fall/winter collection, but pre-fall, resort, and the like. you need new accessories—the hot bag (chloe faye), the hot shoe (gucci's fur loafer mule). designers once loathed fast fashion, but all fashion has become fast fashion. it's not all fashion's fault. the rise of the digital space—first blogs, facebook, then twitter and instagram, now periscope and snapchat—means that people can see and experience so much more than they used to. demand for new and now is high. fashion shows used to be very exclusive. now it's very inclusive. when you see brands like vuitton, dior using snapchat for resort, givenchy making tickets available to the public, or a brand like saint laurent doing a show in los angeles and livestreaming it, then you know the tides have changed.
last fall, the cfda hired a consulting firm to re-examine what fashion week looks like, but in the meantime, some designers have taken it upon themselves to initiate change by showing in-season. which makes total sense! it's february, it's cold now (in fact, it's was in the 20s today in manhattan). you see a great fur coat or chunky sweaterdress going down the runway. are you thinking 'hm, i need to call my sa and get on the list for that.' no, you're thinking, 'i want to wear that. tomorrow.' it also goes back to the idea of inclusiveness. only celebs and the well-connected were able to wear things straight off the runway the next day. rebecca minkoff was the first to announce she was doing this back in december (she will show her spring 2016 collection, with some items available immediately and the rest within 30-45 days. now brands from banana republic (who will have some styles available right after their presentation on saturday) to proenza schouler (with their new early edition collection, where 8 looks will be available to buy online the day after their show, and shoppable in-person at their soho store) to burberry (who are combining men & women's shows, with full collections available right after the show) and tom ford (showing fall 2016 this september) are following suit. then you have designers like paul smith, cédric charlier, and demna gvasalia of vetements who are streamlining shows, showing only twice a year.
so what does this all mean? with many things, time will tell. for some, the show-now-buy-now model may work. for other, smaller brands, it may not due to financial constraints. some have called for more inclusive shows, like last september's givenchy or this season's yeezy season 3. and what about print publications…they have a longer lead time; by the time you see it in print in vogue, it's old news. for the good and the bad, the change is good—and needed. for me, i'll still be writing about my favorite collections here and pinning my favorite looks on pinterest but i will say i'm having less fomo about skipping the shows this february (and skipping the 20 degree temps) with a livestream is a click away. does that make me part of the problem? i don't believe so. i think it makes me an educated consumer of fashion.
what do you think of the evolution of fashion week?
image via pamplemousseblog