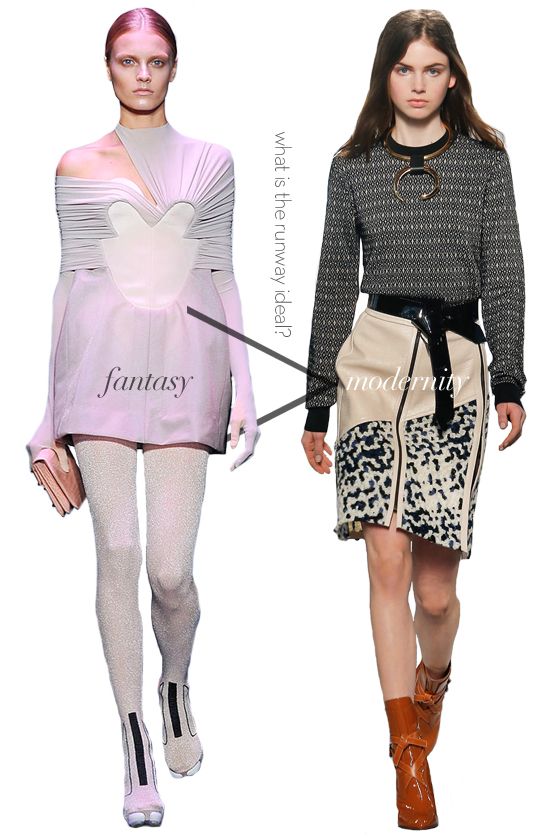 balenciaga spring 2009 collection / louis vuitton fall 2014-5 collection
when it comes to fashion and fashion shows, i'm all about a dash of daring. while i know the main purpose of the fashion industry is to sell clothes, a fashion show should inspire, be inventive, spark a conversation. maybe the clothes aren't completely wearable but that's ok. that's what the resort, pre-fall, and house collections (aka the stuff that doesn't make it onto the runway) is for. one of my favorite designers who always inspires me is nicolas ghesquiere, formerly of balenciaga now the creative director of louis vuitton. his collection was one of the most anticipated of paris fashion week last march, not only because he was taking over from another superstar, but because the lead-up to the show was so secretive. and when the lights went up on the runway, we knew why—he was starting over, not doing a show set on escalators or a train station, but a simplier, more refined runway, with clothes to match. he wanted to wipe the slate clean—which i totally get—but from a designer like ghesquiere, i expect more. was this the new runway ideal?
cathy horyn touched on what was going on at vuitton—and throughout fashion—in her blog post earlier this week, entitled "sign of the times." while wearable clothes on the runway isn't anything new, it has gone through a revolution as of late, with designers like phoebe philo and hedi slimane at saint laurent presenting runway collections full of everyday clothes (albeit expensive ones). when you get right down to it, how many people are wearing irl what you see on the runway? if you leave out the contemporary brands like alexander wang, tibi, milly, and diane von furstenberg, not that many. and while that may be good for my wallet (and yours, because you may have the pieces already in your closet or there's always zara, et. al. to knock them off a bit more easily), i do miss the fantasy, the frivolity, the fun. as we get ready to head into the spring 2015 collections next month, it's a question that sits on the tip of my tongue…is ghesquiere just laying the foundation for bigger things to come or is this fashion of the future? do you follow the cues of the runway when it comes to fashion?
photos via style.com / design by kim mitchell stokes