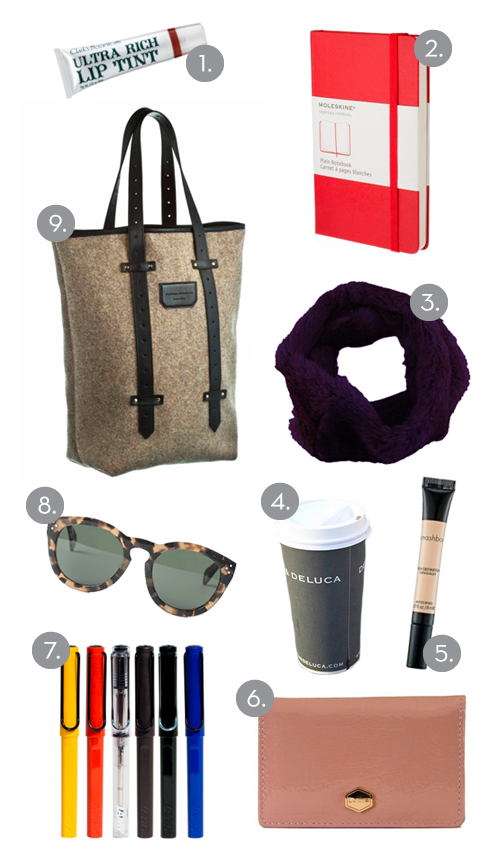 it's that time of year again and as much i love fashion week, i don't really relish in going to new york in february. on the bright side, i'm staying in a hotel this time around and i've been very planful with my outfits (and checking weather.com multiple times a day). here are a few things that i can't live without over the next week…
1. clark's botanicals ultra rich lip tint in madge mauve: my lips get uber-chapped in the winter (the east coast kind), and this keeps them super moisturized and gives them a nice color.
2. moleskine notebook: essential for taking notes during shows
3. vince fur snood: i bought this after seeing it on alicia, and it's become undispensable in my wardrobe…check it out in action.
4. dean and deluca tea: i'm not a coffee drinker, so i need a cup of earl grey tea in the morning to help start the day.
5. smashbox high definition concealer: because dark circles are not pretty.
6. lodis patent card holder: i ordered new business cards from the mandate press…can't wait to give some out and receive some from fellow bloggers
7. lamy roller ball pens: you can never have too many…
8. celine sunglasses: this isn't my exact pair, but this is a great style that will work with everything
9. proenza schouler felt shopping tote: it's a perfect work and weekend tote…love the leather trim.
10. a sunny disposition: yes, it's quite hectic and i may be standing and it may be cold, but i'm so excited to be going. make sure you follow me on twitter, tumblr, and instagram to see what i'm up to.