with the fall/winter shows just around the corner, the pre-fall collections are a great time to not only find new pieces to covet, but also gain insight into what designers are inspired by and what trends will show up next month. not to mention you can start using some of the styling tricks right now. it's a win-win-win.
3.1 phillip lim
i've long been a fan of lim since meeting him at nordstrom sf back when his collection first launch and it's interesting to see him evolve over the years. for pre-fall, i'm in love with the convertible pieces, bright separates, laced-up leather tees, sequin "circuit" pants, and undone knits.
for pre-fall, mary-kate and ashley olsen worked in a tight palette of rust, navy, black and cream, but added leather, flannel, beading, and fur to elevate the collection beyond basics. i can already tell i'm going to want a button-front shirt with contrasting sleeves or a skinny velvet suit.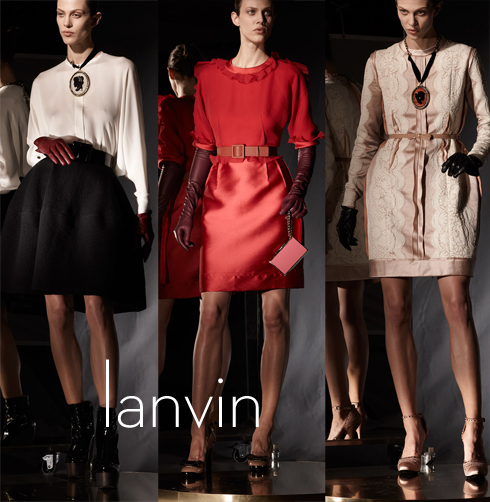 i can't really look at any season without pausing to see what alber elbaz has up his sleeve at lanvin. he still has pencil skirts and his signature draped pieces, but there was also skater skirts, structured puff sleeve satin tees, ankle pants, and cocktail dresses. the coats were a standout for me (like this double breasted, full skirted one), as well as the tonal nude outfits.
stay tuned for more of my pre-fall favorites…any collections catching your eye so far?
pics from vogue.com, collages made by me