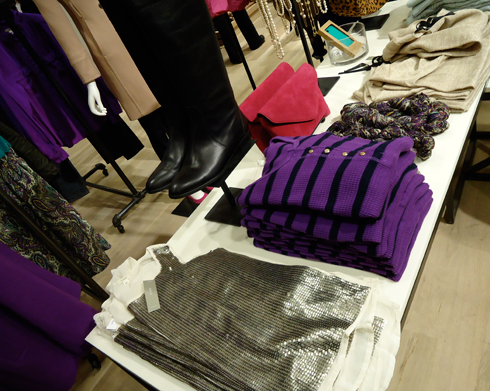 the newly expanded j.crew in the san francisco westfield center has been open about three weeks, but last night the store welcomed new head of women's design tom mora for a private shopping event where invitees could meet tom and get styling advice. mora, who was previously head of weddings and special occasion design is taking over for marissa webb. so far he has been digging into his new role, attending meet-and-greets at j.crew stores in l.a., chicago, and boston, plus heading overseas and in between meeting with j.crew collaborators like lulu frost's lisa salzer.
kirk (left) and annie from wear it both ways with vp of women's design tom mora
the new space has more room for men and women to shop (in separate spaces), plus an shoe and handbag "lounge" with cozy leather chairs, an area for crewcuts, and a weddings dressing room. i am loving that the store now carries more of j.crew collection for women, which has some of my favorites pieces for fall, like silk blouses, tweed pants, herringbone blazers, and bouclé jackets. if you haven't stopped by the store yet, make a plan to check it out…lots of new merchandise is in to get you ready for fall and winter.
i picked up two things last night that are perfect for fall, a bold striped thermal and a sweater that i've been eyeing for a while. can't wait to style up the latter!