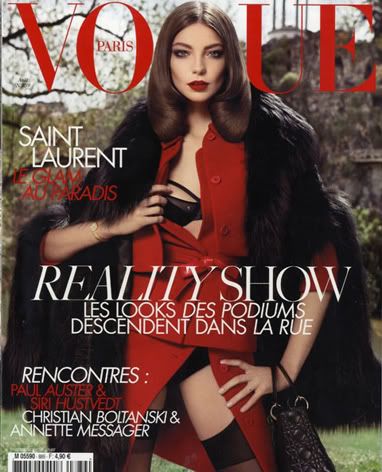 1. d-d-d-daria's on the cover of august's vogue italia (by inez & vinoodh), themed "reality show," as all the eds inside show off runway clothes in real life situations. it's also dedicated to yves saint laurent, who was a master at bringing theatrical clothing to the everyday. inside are great eds with sasha pivovarova (shot by craig mcdean), raquel zimmerman (mario testino), kate moss (i & v) and anna selezneva (terry richardson).
2. after going tongue-in-cheek last season, marc jacobs is back to using models, and unlike his last model ads, he uses well knowns stella tennant and kirsten owen. i love the 80s-armani vibe i get from these. can't wait to see the rest of the campaign.
3. banana republic is celebrating their 30th anniversary, and for their ad campaign, they went with classic beauty carolyn murphy, shot by tom munro. the men's ads feature wil chalker, best known for his stints for gap and michael kors.
4. the designer merry-go-round continues, with peter som opting out of his bill blass contract after the s/s 09 presentation. blass is struggling to stay afloat and the ready-to-wear house may close if owners nextcen cannot find a buyer soon. matthew williamson is interviewing assistants to take over for him at emilio pucci as he chooses to focus on his namesake line; he's opening his u.s. first store in the meatpacking district early next year.
5. as a philly native and a football fan, i've gotta say "go soul!" the philadelphia soul arena football team (owned by jon bon jovi and ron jaworski, among others) are playing in the arena bowl this sunday in new orleans against the san jose thundercats. arena bowl is fast-paced, high-scoring, and just alot of fun. check out the game at 3pm on abc or head to your favorite sports bar and watch.
vogue paris cover scanned by diorette at tFS; carolyn murphy pic, wwd; marc jacobs ad scanned by styleamy at tFS; bill blass and pucci runway pics, style.com;