i've been slowing making my way through the spring shows from europe, and something jumped out at me as i was writing this post: all of the collections i loved from new york have more of a minimalist vibe, while everything i'm gravitating towards from across the pond is more maximalist. is that even a word? maybe it's not a word, but it's a state of mind—all everything everything. europe for me has been about shine, 3d florals, layering (even in spring), lace, pleating, and intricate construction. despite the more couture trappings, many of the collections aren't dressy but more like fancy sportswear. and since my world doesn't revolve around charity galas and jetsetting off to cannes, the lines shown fit more into my day-to-day life.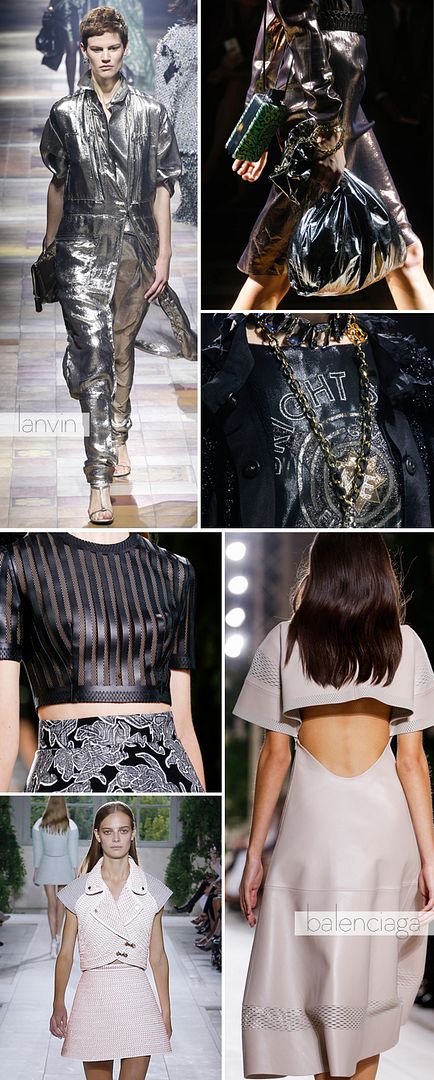 lanvin: shine was the name of the game for alber elbaz, with one or two exceptions. he used everything from lamé to satin to sequins, washed it to give it a more modern feel, then mixed up colors like sapphire, ruby, and aquamarine into fun looks. and how awesome is the trash bag purse?
balenciaga: alexander wang continued to infuse balenciaga with a touch of the sportiness he's known for in his main collection (like stretch thong sandals and quilted crop tops), but don't mistake this for any old thing. couture touches were everywhere, from the woven leather biker jackets with cocoon sleeves to the cape back shirtdresses. i can already see the zara imitations in my head.
two ready to wear collections with a more contemporary price point that are my favorites right now are no. 21 and msgm, and both presented strong, colorful collections for spring with beach inspiration. at no. 21, alessandro dell'acqua kept things sleek and simple, with a smattering of wave prints, beaded swirls on chiffon skirts, and snakeskin toppers. there were also tropical printed pajama shirts, cutout lace skirts, and dresses with plastic 3d flowers. massimo giorgetti's msgm was similar, but heavier on the prints, with embroidered trousers, tulle skirts, and hawaiian printed shirts, with simpler pieces like white shirtdresses and black lace sweatshirts mixed in. both collections highlighted the fun that one should have with fashion, and how that can either be feminine or more boyish. what are some of your favorite collections so far?
all photos via vogue.com except msgm via stylebistro