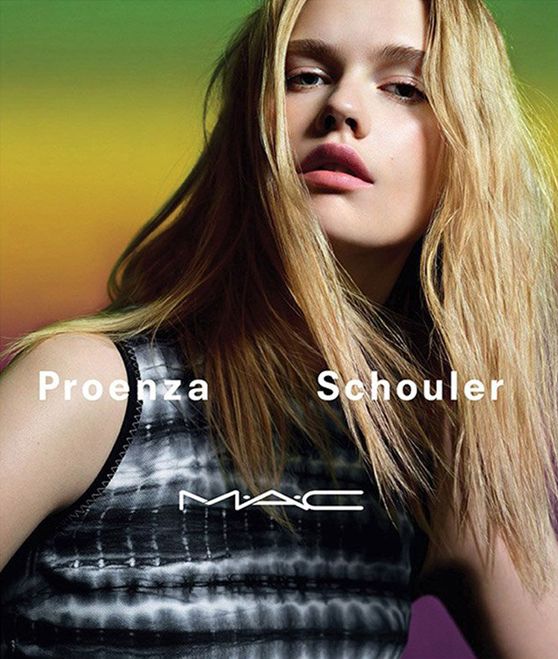 i don't usually get excited about fashion + beauty collaborations, but i'll definitely make an exception for proenza schouler x mac. the collection, which hits mac stores and online april 3.
rather than doing a full line, jack mccollough and lazaro hernandez decided to focus on the pieces that the proenza girl tends to wear most often. "they're working all day, then they put on a heel and a red lipstick, and for some reason, those two things make you ready for the evening," hernandez said to vogue. and while there aren't many pieces, they are big on color, with shades that evoke the sporty nature of the brand. i like that there is something for every skintone and makeup wearer, whether you are more of a minimalist with a lined eye, or if you prefer a vampy lip.
i'm totally enamored by the 90s-esque lipstick in primrose, the ombré blush in sunset beach, and the thimbleweed nail polish, but as with most things proenza schouler, i'm sure i'll find more to love when i see the collection in person.
1. pro longwear lip pencil in dynamo (coral)
2. pro longwear eyeliner in black ice and rich experience
3. nail lacquer in dayflower (plum cream), nocturnelle (glossy black), thimbleweed (pale nude cream), bougainvillea (bright orange coral cream)
4. 129SE face brush
5. ombré blush in sunset beach (pink coral/tan ombré) and ocean city (vivid orange/tan ombré)
6. lipstick: mangrove (bright orange red matte), woodrose (light pink with beige lustre), pinkfringe (vivid flamingo satin), primrose (sheer berry plum lustre)
photos via vogue and fashiongonerogue