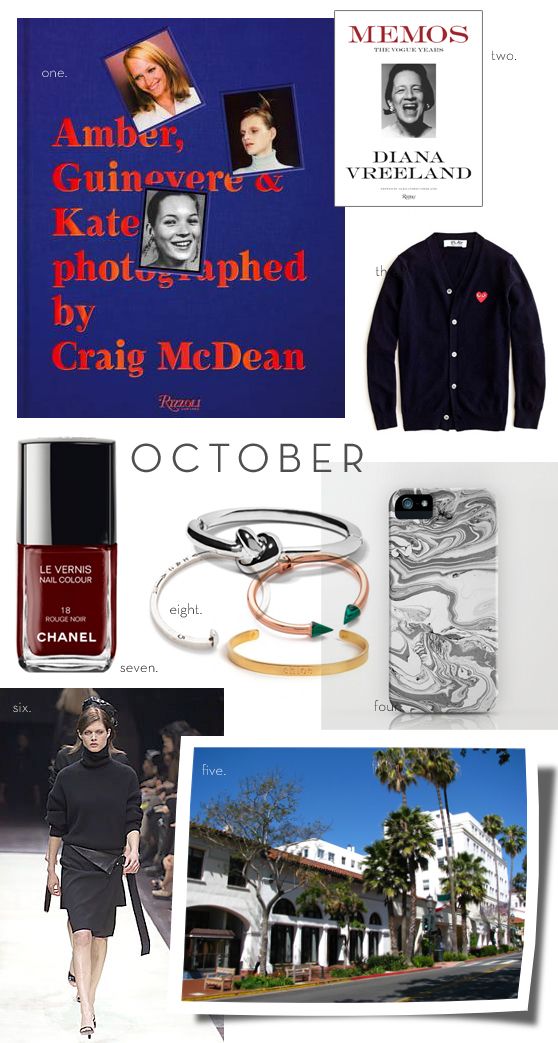 introducing a new feature, where i'll share what's inspiring me this month from beauty, fashion, and graphic design to new books and movies, art, even sports.
one. amber valletta, kate moss, and guinevere van seenus are three of my favorite models from the nineties, and three women that photographer craig mcdean considered his muses. this tome includes 150 photos from over a ten year span, many of which were unpublished.
two. in 2001, visionaire magazine dedicated an entire issue to 150 of memos diana vreeland sent to her staff during her time as editor-in-chief at the the vogue. the limited edtion quickly sold out, but you don't have to scour ebay to see them. her grandson alexander (who helped visionaire acquiring the memos for publication) has a new book which focuses on her eccentric, eclectic memos. no topic is off limits, to bare legs to eyebrows to vocabulary.
three. the perfect fall topper for dresses, skirts, and denim? a chic, oversized cardigan.
four. thanks to alexander wang, i'm obsessed with all things marble. this phone case by graphics emporium and serving dishes (which double as jewelry and makeup trays) by west elm let me try out the trend without spending lots o' dough.
five. so excited for my anniversary trip later this month to santa barbara. on the agenda: beach time, good food, maybe some wine tasting, and shopping at diani and dressed.
six. marc jacobs bid adieu to louis vuitton with a dark and moody spring collection a few days ago. many have talked about what they feel were his best moments at the house (like instyle, elle and fashionologie), and for me it will be the fall 2000 collection. it didn't have a collaboration or a fancy set, but the minimalist, 80s vibe was right up my alley.
seven. fall means new nail color, and this deep burgundy from chanel fits the bill of going with everything.
eight. in looking at my fall style inspiration (more on that next week),
accessories wise i've been sporting gold or silver bangles with very
little or no embellishment. the banana republic knot bracelet is a spot
on interpretation of the celine and balenciaga bracelets.
santa barbara photo via about.com