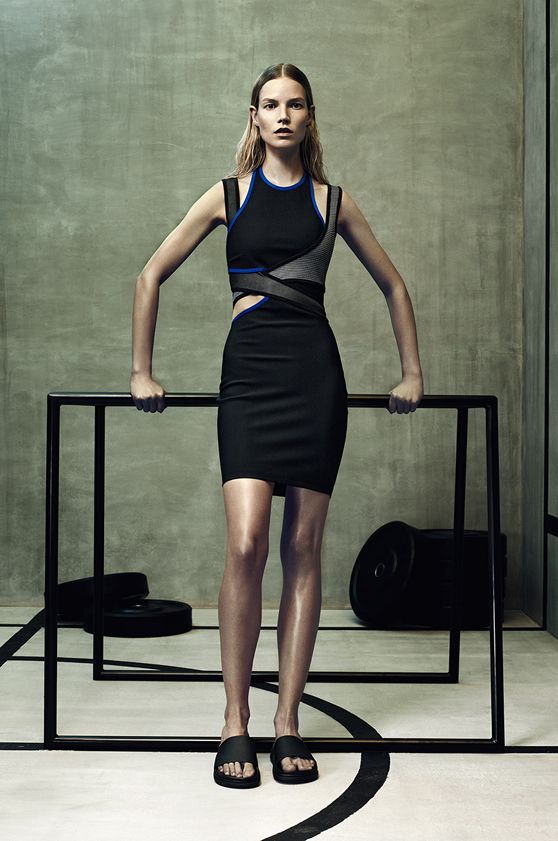 people seem to be truly gaga over the alexander wang x h&m collection. last week the hype hit a fever pitch, as the lookbook with prices was released, and wang staged a sport-inspired runway show at the new balance armory (where i've seen a few track meets). for me, the highlight of the show was the performance by missy elliott, who has been out of the limelight for quite a few years. hopefully this means she's back making music.
anywoo, maybe because i own quite a few pieces from aw and i know you can find it (and t, the more casual diffusion line) on sale, i'm not overly excited about this collaboration. but also because just about all the pieces are sports-inspired in a bit-too-sporty-for-everyday sort of way. if you're like me and work a 9-to-5, you'd be hard pressed to find a way to incorporate a cropped sweatshirt with the word "wang" emblazoned across it into your work wardrobe. so if you want something that whispers instead of shouts, get this dress above, which at $99 is a steal. the cutouts are sexy not vulgar. i'd play off its fitted silhouette and pair with an oversized cardigan or boyfriend blazer. and if you've scoured ebay in hopes of finding the coveted freja bootie you're in luck because the line will feature a new version, done in leather and neoprene.
check out the video from the show, plus some great behind the scenes photos on the coveteur and get ready for the mayhem on november 6.
photo via hm.com