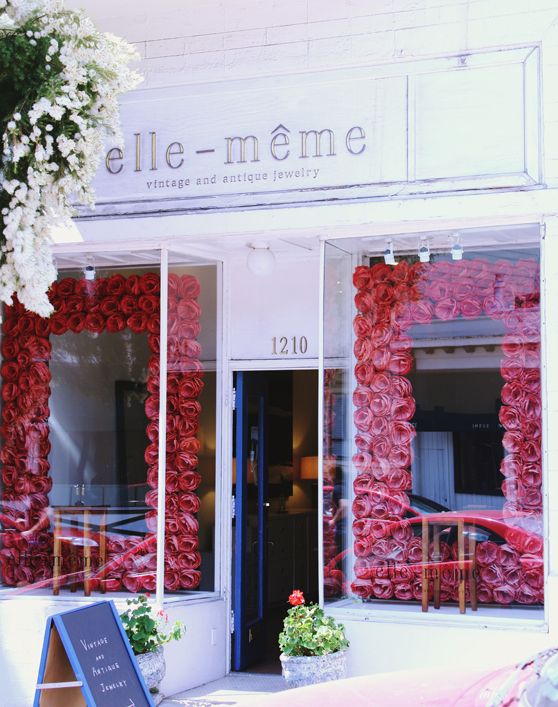 as with the rest of my style, my taste in jewelry has changed and evolved over the past few years, especially since living in san francisco. i'm totally into mixed metals—gold, silver, and rose gold—and smaller jewelry lines that focus on vintage or one-of-a-kind pieces, like lauren wolf's esqueleto and sweet and spark. recently my friend kim introduced me to elle-même, a gorgeous vintage and antique jewelry shop in russian hill. the store is so elegant but not pretentious, the beautiful dark wood cabinets treat each piece as it own little jewel box. i spent a couple of days with owner denise and sales associate kelly talking about learning curves of opening a store, the san francisco retail scene…oh and trying on lots of jewelry!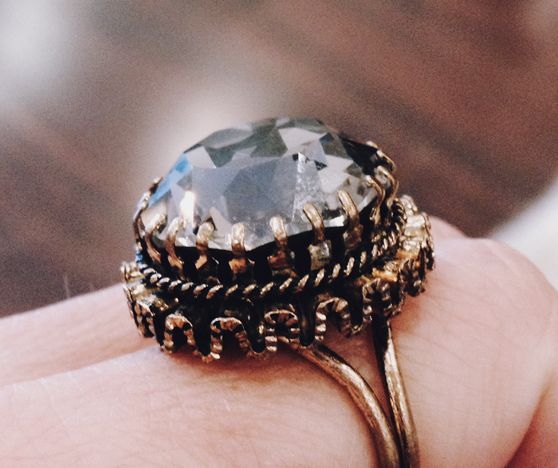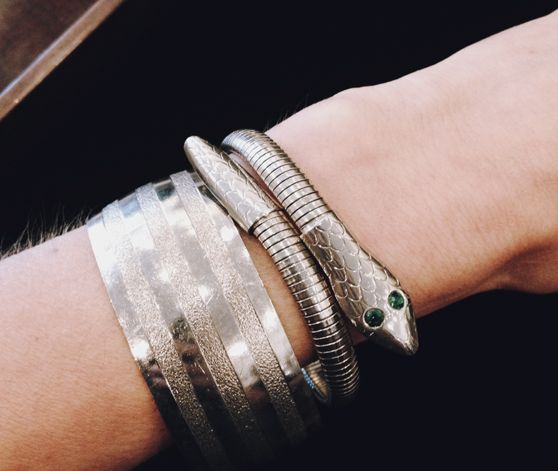 did you always want to be an entrepreneur? what did you major in at college?
yes, i always wanted to do something on the small business side. i went to college in seattle and majored in psychology because the classes were very interesting to me…it came second nature to me and i really enjoyed it, but i never intended to go into that field. you can't really unless you continue on with your education.
how did you decide to open a store?
after college, i started job hunting in seattle and i saw people opening these cool, small boutiques and my dad left his job and he was considering doing consulting, and i thought, 'if they can do it, why can't i…why not me?' so i talked to a friend of mine and i said, 'do you want to open a store?' and she said 'yea sure.' i had to convince her that i was serious; i didn't want to talk about it forever and not have it go anywhere. we started doing the research and originally it was going to be a typical clothing boutique with a bit of everything—clothing, shoes, accessories—and it was stressing us out so much. so i said, 'what if we don't sell clothes?' and it was like a weight had been lifted. gradually we crossed everything off the list until we just got to jewelry, specifically new and vintage, and then we crossed the 'new' off the list. specialty stores are great…i wish there were more stores that are more focused on one thing.
what made you pick this location as opposed to seattle?
we weren't feeling any neighborhoods there that were a good fit for the store. i'm originally from the east bay, and we came down for a visit and we felt like this is where it should be. four months later, we were here. it was hard to find a place because we had no history, but you've gotta start somewhere. we looked on hayes street, polk street and then i saw this site which was empty…it looked like an office. i found the owners address through public records, and for a year we went back and forth before they finally agreed to lease it to us. after some renovations, we opened in october 2007.
when you first decided to open a vintage jewelry store, where did you get the pieces to stock the shop?
the first selection of pieces when i opened the store was a collection i slowly gathered over a period of three years. that collection came from up and down the west coast, new york, paris and buenos aires.
where do you source your jewelry from now and how has the process evolved since you first opened?
i source the jewelry a few different ways. i love to travel, so i've been to antique markets in paris, brussels, and buenos aires. on a more regular basis, i buy from antique dealers in california…not very glamorous. the ones i work with are huge collectors that allow me to sift through all of their finds so that i can pick what i think is the cream of the crop for the store. the process itself hasn't evolved, but the deals i work with have. i still work with a few from the very beginning but have been fortunate to become acquainted with more new dealers over the years.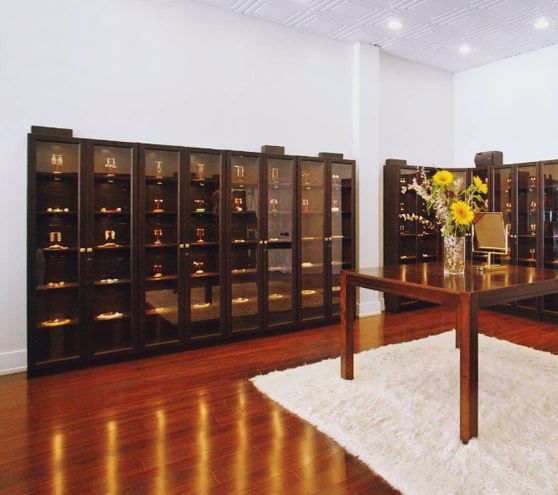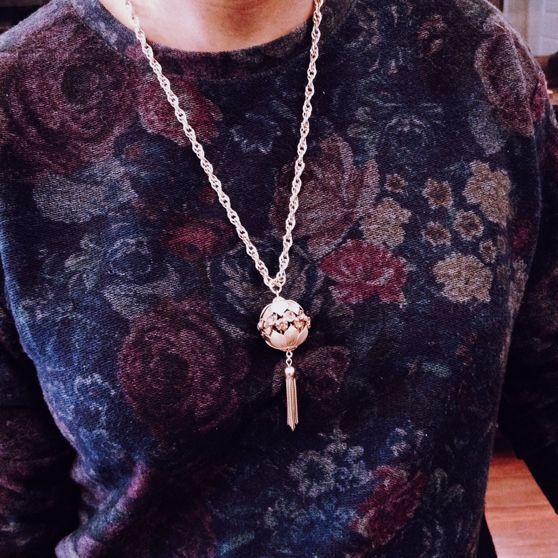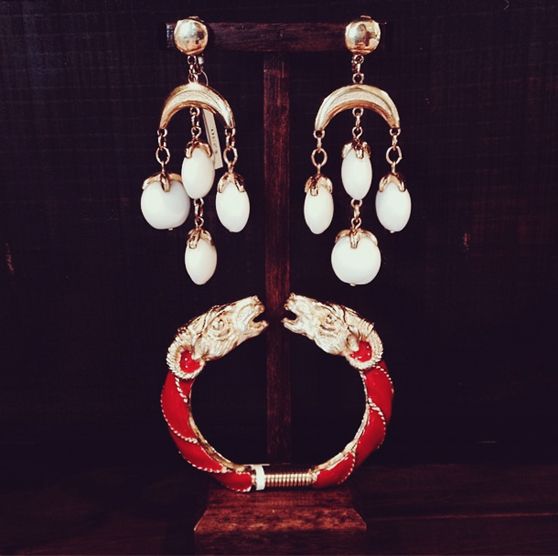 what's your philosophy on customer service?
i'm the worse salesperson…i'm on the customers' side. i want you to have a good experience whether you buy something or not. i just want them to be happy. come in, try stuff on, i'll pull things for you…if none of it works, that's fine. it's a friendly atmosphere and you not going to feel pressured. if you have a good experience even if you don't find anything, you're more likely to come back. if you're a guy and you're coming in to buy a gift, i'm asking you lots of questions: what is her style, what does she gravitate towards, and then i'll have him pull things and i'll pull things. then it's a process of elimination. i try things on so he can get a sense of how it looks on. the best feeling is when he comes back and says 'she loved that piece i bought here and now i need something else' or he brings her with him. i'm also accommodating if someone comes in and they aren't happy with a piece, i want to make it right.
how did you learn the in's and out's of running a store?
i applied to business school at my university, because i wanted to open my own business and i thought that's what you do, but i realized that's not really true. i'm kind of a do-it-yourself person and not scared of learning new things. i took accounting and i really enjoy bookkeeping. most things have just been self-taught, or something arises and you go and find the answer and now you know it. for example, many of the earrings we work with a jeweler to convert from clip-on to post, and now i know when it can't be done. every day you learn this much and each day you learn something new. you cross that bridge when you get to it. my only fault is marketing, what i know about it is unappealing to me, but it's a catch-22, if you don't do it, then it's hard to keep the business going.
speaking of that, you've been here for seven years, through economic downturns. how have you kept the business going and what do you feel the secret is to the store's longevity?
yea, the economy went straight down right after we opened, and a year after we opened, my business partner left. for a long time, it was me here working by myself so when customers came in, they worked with me. it's the experience people have. we are lucky to have really great customers who write great yelp reviews and tell others about the store. financially i've had to make sacrifices and i live a very frugal lifestyle in order to keep the business going. it's a very steady growth of customers that keep coming in and keep telling new people about it. we have so many repeat customers from out of state, out of the country that find us or track us down and we love that.
what do you see in the future for elle-même?
kelly joined me a year ago, and i was happy to find someone who felt the same way about the jewelry and the business as i do. we haven't talked about it, but i would love to stay in this location with this one store. it would be nice to have more people know about it and have more traffic. i'm not trying to be a millionaire; we just want to keep doing what we're doing, make a normal living, and just be happy.
——————————————
if you're looking for unique jewelry for yourself or a gift (they've got some pieces for him too!), definitely check out elle-même…you won't be disappointed.
elle-même (facebook / instagram), 1210 union at hyde, open tuesday through sunday


photos by denise kohne and kim mitchell stokes