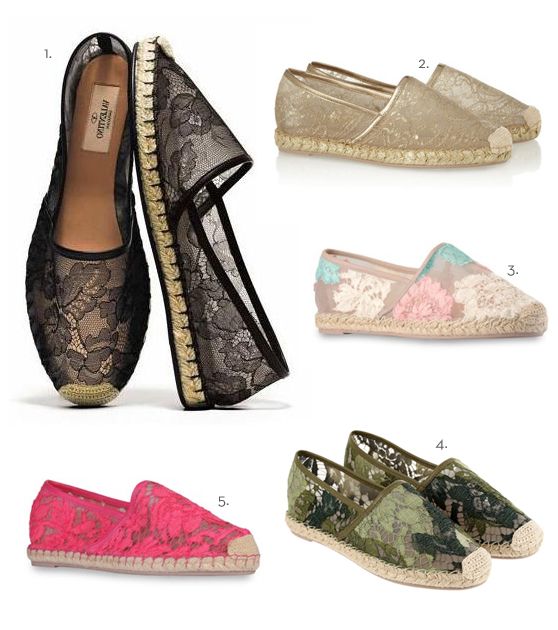 this week's friday five is focusing on one item that's perfect for memorial day weekend—the de facto start of summer: the valentino lace espadrille. yes, it's pricey for a shoe you'd only wear in the spring and summer months, but somehow i can't seem to get enough of it. apparently the team at valentino can't either, because they keep developing new incarnations of it: first it was simple nude or blace lace, now there's camo, floral, neon, metallic and macramé, not to mention wedges. and as it always is with a style that is uber-popular, other companies have started to make more affordable versions (like here, here, and here.) while the temperature doesn't plan to hover much above 63 in these parts, i'm planning on rocking some summer shoes, if only indoors.
have a wonderful (long) holiday weekend!
1. black lace / 2. metallic lace / 3. floral lace / 4. camo lace / 5. neon pink (also comes in lime green)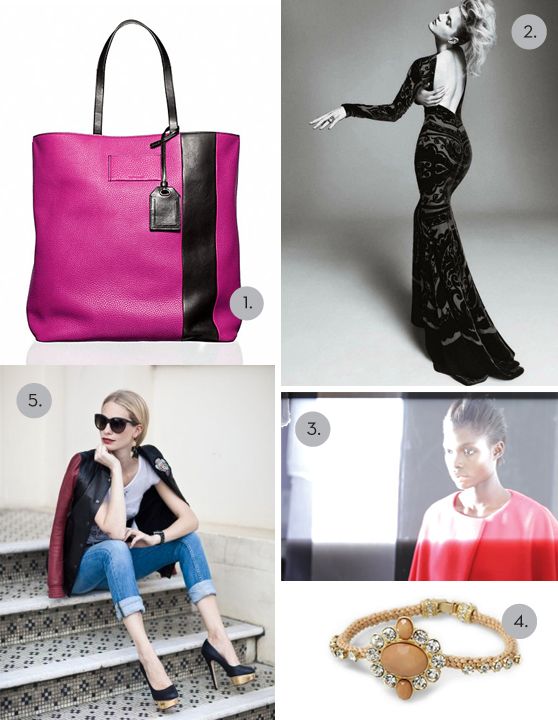 1. lusting after the reed krakoff gym tote, perfect for fashion week. / 2. guinevere van seenus shines on the cover of september's harper's bazaar españa and in the main editorial "sentimiento barroco" photographed by nico / 3. the nordstrom "portraits of style" fall 2012 campaign mixes 22 models with 22 designers and was art directed by petronio associates (the team behind self service magazine). starting this week on the blog the thread, they are giving a behind the scenes look at the shoot with photos and video. as an art director, it's always cool to see a campaign come together. / 4. this bracelet is a more affordable version of the shourouk beaded bracelets. / 5. it-girl poppy delevingne is popping up everywhere, from september's marie claire to this feature on refinery29. the first look is definite fashion inspiration—a varsity jacket is still on my wishlist, and this one has the color of the season (bordeaux).