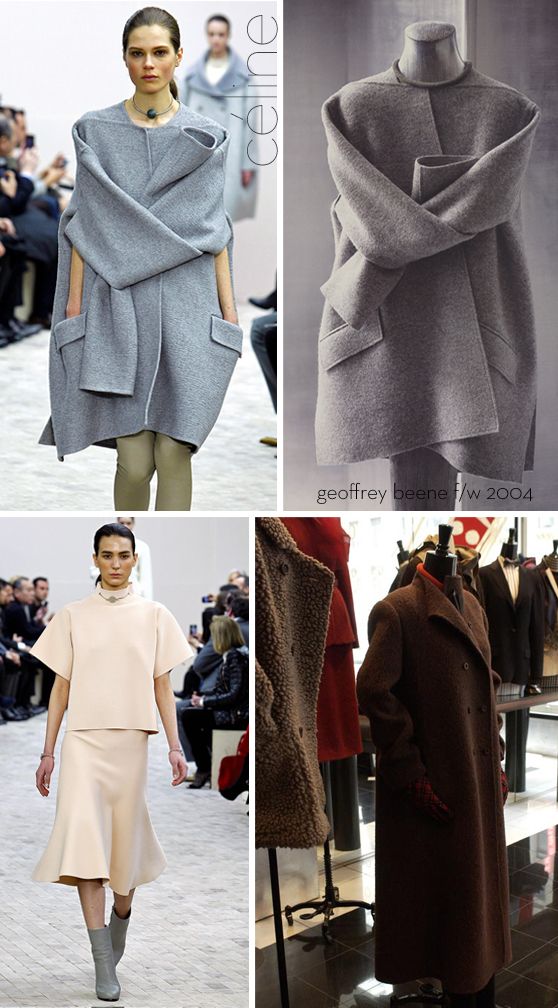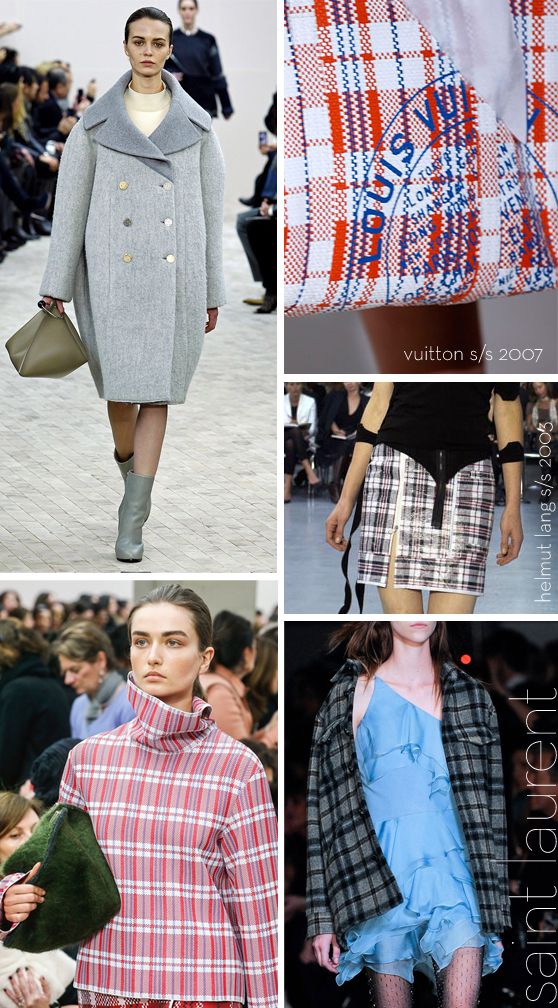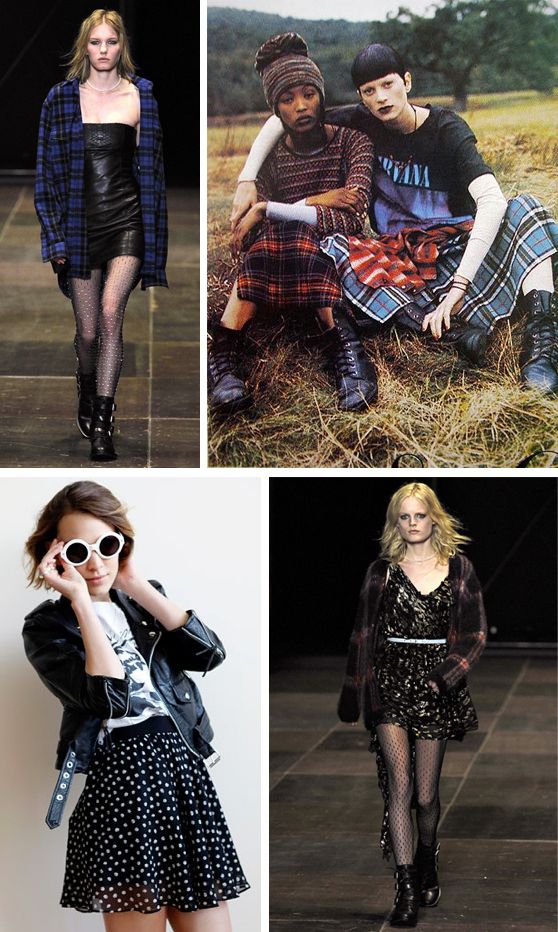 two shows that have had a polarizing effect this week are celine and saint laurent. while i was not in love with the past two celine collections, this fall one was gorgeous in a quiet sort of way. elegant but also seemed to have a level of comfort that you don't normally associate with ready-to-wear. it also felt familiar, but i couldn't quite put my finger on why. then my friend randall tweeted a photo of one of geoffrey beene's final collections, with boiled wool swing coats and alpaca separates and it was in that moment that i remembered two other collections where i spied the same plaid that philo used: a helmut lang show from 2004 and vuitton from 2007. i'll come back to this in a minute.
over saint laurent, after the public relations debacle of last october, i was eager to see with hedi slimane had on tap next. i was disappointed to see it was a rehash of nineties grunge, not done in a cool, dries van noten way but in a, for lack of a better word, grungy way. it was mohair sweaters, baby doll dresses, leather bustiers, beaded stockings, and combat boots—something you'd imagine alexa chung or new it-girl cara delevingne wearing, except they've probably been there, done that. slimane's collections for dior homme were fresh and inventive, so much so that the slim separates became popular with women. this is what i expected from the new saint laurent, but instead it's been fueled by the l.a. rock scene
between the two collections, it really got me thinking about fashion and referencing the past. as with most design disciplines, everything old is new again, but shouldn't it be new in a new way? yes, philo used a nylon chinatown shopping bag plaid, but rather than being more literal (like marc or helmut lang), she exploded it on coats, popovers, and slit front skirts. slimane on the other hand was more literal but he created some serious buzz, with everyone from critics to armchair critics chiming in. maybe slimane was revisting the original concept of yves saint laurent's rive gauche line—bringing fashion to the masses (something leandra brought up). but that idea isn't new…it's already here. not only are there couture level lines, but contemporary ones like alexander wang, phillip lim, tibi, and theory and high street brands like zara, j.crew, urban outfitters, and asos for women to choose from. why buy the saint laurent version when you get the authentic (or even the cheaper)? and i get the desire to bring in a newer, younger clientele, but does that mean the clothes have to actually get younger? most women i know aren't going to buy this saint laurent, save for a blazer or coat, because it isn't realistic for our lives.
what do you think of all this…is it too much referencing or do you expect it when it comes to runway shows?
image credits: runway shots of celine/vuitton/saint laurent from style.com; helmut lang from firstview; geoffrey beene via garment to zine and firstview; grunge editorial via; alexa chung via