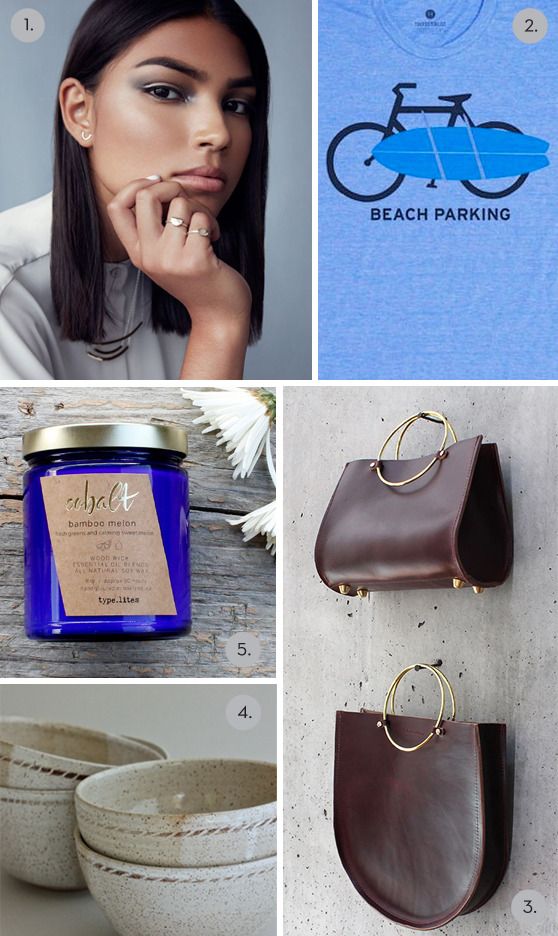 i've raved about the renegade craft fair before, but for those of you that haven't been, it's coming to back fort mason this weekend, taking over two of the pavillion spaces. expect hundreds of small makers plus a photobooth from magnolia photobooth co., DIY stations from outlaw trading co and handcrafted honey bee, amazing food, sweets from post street creamery and secret scoop, and if you are just visiting, fed ex will have a flat rate shipping station.
here are five vendors i can't wait to check out:
1. upper metal class: jewelry is always my weakness at renegade, and this delicate jewelry line from portland is sure to be a new favorite.
2. the poster list: so many cool options to outfit your walls. and now, lots of interesting graphic tees for men and women.
3. future glory: based in the dogpatch, these are some of the coolest bags and accessories, featuring fringe details and metal handles. even better, a portion of the proceeds are given to organizations that help support women who were victims of abuse or human trafficking.
4. foxwares: ceramic mugs, vases, platters, and more made in austin by lindsey wohlgemuth…perfect for a housewarming gift or your own home.
5. type.lites: wooden wick soy candles (which is biodegradable and burns cleaner than traditional candles) made right in the bay area. i love that each variety—signature, cobalt, and expletive—have fun sayings on the inside behind the label.
also, the nordstrom anniversary sale is open to everyone starting today! i've rounded up my picks and what's on my wishlist in the top right column…have a good weekend!
renegade craft fair, ft. mason, festival and herbst pavillions, marina boulevard and buchanan street, saturday and sunday, 11am to 7pm
i went to the renegade craft fair last summer, and was blown away by the number of interesting and talented designers. the 2010 edition promises not to disappoint, and how could you resist going when you can browse for free. in addition to the over 250 designers, you can get your photo snapped in the photobooth from magnolia photobooth co., win prizes from chronicle books and uppercase journal, or take a class from etsy or the museum of craft & folk. plus as an added bonus, the barneys warehouse sale is also going to be next door (at the herbst pavilion).
before you head down here are five booths you must check out:

alana douvros: a jewelry designer from oakland, douvros uses natural stones like amethyst and citrine along with more untraditional materials like feathers and python bones to make gorgeous earrings, rings, and necklaces.

chewing the cud: viola sutanto, an oakland based designer, not only designs websites, brand identities, invitations and more, but has started a new line of letterpress and flat printed cards and organic reusable fabric wraps with whimsical graphics.

girls can tell: based in philadelphia (yay!) girls can tell screenprints hand drawn illustrations onto everything from felt coasters to dish towels to vintage book pages. what's cool about the drawings is how intricate they are…and thoroughly non-girly.

meryl munches macaroni: i used to doodle on my friends keds and boat sneakers in high school, but what meryl phillips does takes that to a whole new level (and how great is the name)! you can purchase what she has in her etsy shop, or if you love a design but not the colors, work with her on something custom.

wooly bison: from lovely seattle (i actually don't know how lovely it is as i've never been, but i've heard it's gorgeous), wooly bison makes eyeglass cases, laptop sleeves, messenger bags, and clutches using suit jackets and other vintage wools.
this is my no means a be-all-end-all list…some of my other favorites that will be there are ach ach liebling, brookadelphia, erica weiner, little otsu, turk+taylor, old tom foolery, and petit collage.
the renegade craft fair
fort mason center festival pavilion
saturday, july 31 and sunday, august 1 from 11-7
FREE!!
renegade craft badge from renegadecraft.com; all other images from the websites of the designers