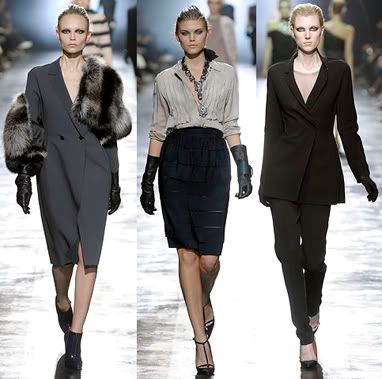 at the end of paris fashion week, after all the talk of minimalism and sleekness, alber elbaz did at lanvin what he does best: beautifully embellished clothing that are wildly feminine and sexy. the twist this season? the clothes were deeper and darker. there were slim little black dresses, tastefully done, perfect for day. suiting included pieced ribbon wrapped blazers, jewel neck blouses and ruched skirts; fingertip length jackets, slim pants, and relaxed shirts.
the breakout section were the cocktail dresses, so many choices that i would love to have enough events to wear them all to. the aforementioned ribbons with transparent sleeves and sparkle edges, slim sheaths with jet beads and cobalt asymmetrical necklines, a black velvet and silk wide stripe bubble hem strapless number and slim skirts with taffeta one sleeve blouses…topped off with satin bomber jackets or a black patent trench with fur bottom.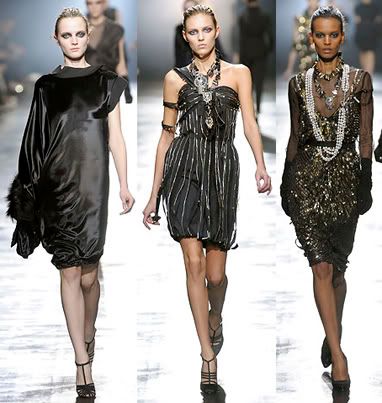 and for the glitz, elbaz crafted a cute bolero out of mixed size gold and bronze sequins, a fringed t-shirt dresses, and with the addition of chunky jewelry including art deco style necklaces and crystal encrusted cuffs. it was a tour de force from alber…he continues to know how to dress a multitude of sizes and exactly how a woman wants to dress.
pics from catwalking and style.it