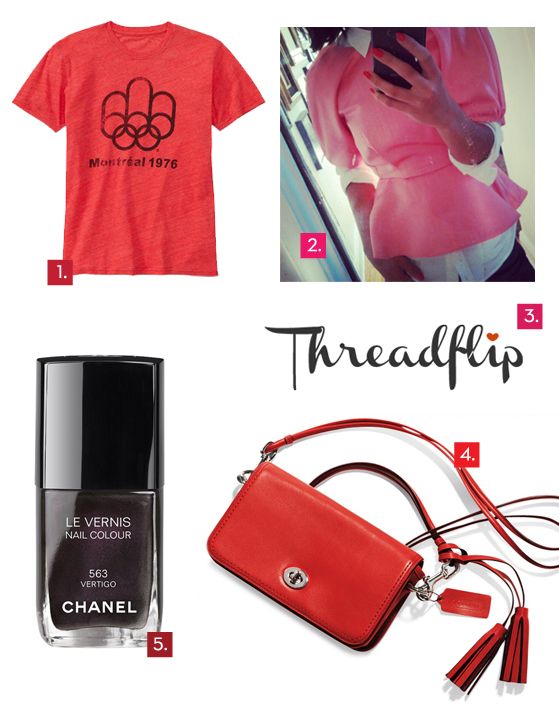 1. finally it's olympic time! love the gap's olympic t-shirt collection: vintage tees for the entire family / 2. totally want to try krystal's peplum layering / 3. excited to go to a threadflip party this weekend hosted by erin (and list some things of my own) / 4. everything about the coach legacy collection, from the graphic design to the colors to the styles is amazing…this crossbody is calling to me / 5. i can tell this new chanel polish will be a fall (and late summer!) favorite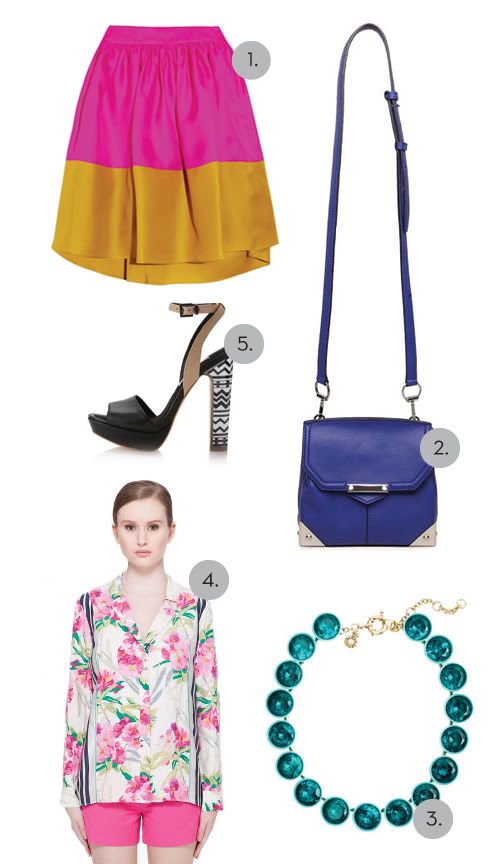 the spring sales have started and there is way too much good stuff out there! from net-a-porter to j.crew, just about everyone has some great pieces on sale that you can wear all year long. here are five things that have caught my eye:
1. roksanda ilincic jim color-block silk-twill skirt
2. alexander wang marion mini flap bag
3. j. crew jumbo brulée necklace
4. elizabeth and james floral silk pajama top
5. bcbg marcel mosaic heel sandal
happy shopping (and happy friday)!
happy friday! here's what am i looking forward to this weekend…what's on your agenda?
1. the ncaa lacrosse tournament for men and women continues saturday and sunday…of course i'm rooting for the lady tar heels and the men from johns hopkins and virgina. / 2. we just got a new ipad 3 and i'm on the hunt for a stylish yet unisex case / 3. can't wait to wear these beauties this weekend / 4. looking forward to catching up with jenni, who is in town for a jewelry diy workshop and a book signing. / 5. checking out the rebecca minkoff sample sale on sunday (it's always a good one!)
tie dyed shorts image from ispydiy
1. anja rubik, the rumoured fall face for lanvin, has a breathtaking ed in april's vogue paris called "baronne anja." (nsfw) shot by hedi slimane and styled by emmanuelle alt, rubik shines in this moody ed of euro luxury. the issue (with natasha poly on the cover) is out in the u.s. now.
2. the j.crew fall collection was presented yesterday at milk studios, and the grey gardens inspired looks had everything and the kitchen sink. jenna lyons, j. crew's creative director said at the show, "i'm not expecting people to dress like this…" which is good because it is a tad over the top. but pick apart the looks and there are some standout pieces like tiered skirts, shearling vests, loose pullovers, beaded cardigans, cropped tweed trousers and leather jackets. i'm still not sold on the sweatshirt pants/shorts and socks with platforms, but there are enough good stuff for everyone's style.
3. if you're a vintage lover and didn't make it town the vintage expo a few weeks ago, you're in luck. the flagsip urban outfitters store on powell and ellis just got in a shipment of vintage clothing and accessories from designers such as valentino, gucci, bally, pendelton and more. they're only there for a limited time, so act fast.

laura and kate mulleavy of rodarte
4. last year, the cfda starting handing out a "popular vote" award as part of their annual awards ceremony (the winner was ralph lauren.) this year, the category is back, and it's open for voting by the public. there are over 100 designers to choose from, from the more known (marc, donna, philip lim, michael kors) to the more obscure (maria pinto, lyn devon, mimi so). who would i vote for? i haven't decided yet, but one of my picks would be laura & kate mulleavy of rodarte, whose spring and fall collections were simply amazing. the cfda award ceremony is june 7 at alice tully hall at lincoln center.
5. i don't usually splurge on flats, but i was intrigued by these from the marc jacobs resort collection. in addition to the multicolor tweed with shots of neon, it has a black patent toe and is topped with a green marble stone with a grosgrain ribbon. sounds like alot, right? i thought so too, but when i saw them in person at the maiden lane boutique, it was love at first sight. i can't wait for the rain to let up so i can "rock" them.
anja ed scanned by elsaskywalker at thefashionspot; j.crew collection from style.com; streetstyle pic from racked.com; mj flats from la garconne
after a hiatus, the friday five is back! for those of you who aren't familiar with it, the friday five is a quick hit list of news, obsessions, events and overall cool things.
1. freja beha erichsen, who has been having a moment for like, forever, finally ended her feud with steven meisel and is not only in march's us vogue, but scored the cover of march's vogue italia. i love how they styled her like a 40s screen siren (as opposed to the usual androgynous treatment) and her only girl editorial inside is just amazing. here's hoping anna & co. give her the star treatment in the u.s. version.
2. urban outfitters is jumping on the bridal bandwagon, launching a wedding website sometime in 2011. gowns (priced at $1000-$5000) and dresses (starting at $250) will be designed by the anthropologie design team and guest designers, and the site will include jewelry, shoes, invitations, and a registry (presumably for anthro as well as terrain, their home/garden arm). makes sense for the brand, especially since i've seen many weddings recently that have a definite "anthro" feel to them.
3. one of my favorite stylists, taylor tomasi hill, has not one but two great features online. the first, is a peek inside her 20s themed wedding to johnathan (chase) hill on martha stewart weddings. when i was searching for my own wedding dress, i became enchanted with hill's dove grey j.mendel gown and white suede azzedine alaia booties. second, refinery29 visited her at her west village apartment. her home is as eclectic as she is, and i love that it looks cozy and lived in, not stark and staid.
4. lanvin is opening their third u.s. store in mid-june on madison between 68th and 69th Streets. expect to find their entire collection of men's and womenswear, shoes, bags, jewelry, and accessories, plus the lanvin blanche collection. i will check out the nyc store for sure when i'm there for spring 2011 fashion week, but i'm also going to visit the las vegas store (in crystals at city center) next week.
5. neiman marcus' contemporary outpost cusp, which has 6 standalone stores, are opening as shops-within-a-store at three stores this weekend, including the san francisco store on stockton street. and speaking of openings, the delayed black fleece store on fillmore (in the old simon pearce space), also made it debut this week. perfect if you need your fix of skinny seersucker suiting, pleated skirts, and piped blazers.
vogue italia scanned by diciassette at thefashionspot, anthropologie dress from anthropologie.com, taylor tomasi hill from lanvin boutique from thelifefiles.com, black fleece from urbandaddy
1. even though it's been open for a month or so, the calvin klein (white label) store in the san francisco centre had an opening party on wednesday hosted by lucky and GQ. models were on hand showing off the new fall collection, and style editors were mingling with the crowd and offering tips and tricks on how to integrate the new pieces into your wardrobe. a portion of the proceeds from the event went to save the children. if there isn't a calvin klein store near you, the website now offers online shopping. some transition looks i loved were the printed silk dresses, the faux ostrich tamara satchel (seen in the pic with the models), and a textured u-neck sweater.
2. two new york publications have just released their fall fashion issues. t, the new york times style magazine has rachel mcadams on the cover, and as always stunning editorials including sasha pivovarova in "angels in america" by fabien baron, guinevere van seenus in "chic-a-boss" (paolo roversi), and natasa vojnovic in "black widow" (by liz collins). new york magazine has dual covers featuring christie brinkley and rafael nadal, two great articles on juergen teller and nina garcia vs. anne slowey, and of course, fashion eds on fur, tuxedos, and bewitching lace.
3. scott schuman shot an ad campaign for gant featuring ten stylish new yorkers who mix pieces from their wardrobe with their favorites from gant's fall/winter collection.
4. congrats to my online friends for their shoutouts in the past week. jane at sea of shoes, was a myspace august muse on whowhatwear, while camille of childhood flames and rumi received shoutouts in a nytimes article on fashion bloggers. congrats gals!!
5. today starts the outside lands music festival in san francisco's golden gate park. the three day show includes headliners radiohead, tom petty and jack johnson, plus beck, widespread panic, cake, primus, and the black keys. in addition to some great music, there is an organic farmers market, wine haven, food stations from local restaurants, and an eco "store," where you can purchase items using your old cans and plastic bottles.
sasha, tmagazine.com; gant campaign, gant.com; jane, seaofshoes.com; thom yorke, pennlive.com
1. natalia and isabeli look great in the new ad campaign for versace, although i don't quite get why they aren't fully clothed in all the shots. i guess it's donatella's way of keeping the sex appear in versace.
2. my friend leyla's store, visionaire, was featured on the moment, t magazine's blog. i love the fun design of the store, and she carries two of my favorite lines, proenza schouler and the row.
3. the renegade craft fair is happening tomorrow and sunday at fort mason and it's free! it's a great place to get handmade clothing, artwork, jewelry and more from local designers and artists.
4. anne hathaway has followed the reese witherspoon school of style: dump boyfriend/husband, cut hair, start looking extra foxy.
5. and in another cross-marketing effort, stefano pilati and naomi campbell do their best one-eyed looks on the cover of august's i-D magazine. the cover and ed are shot b y inez vanlamsweerde and vinoodh matadin, who also shot naomi for the ysl f/w ad campaign.
versace, versace.com; visionaire photo courtesy of the store; anne hathaway, celeb city; i-d, scanned by northern star at thefashionspot
i'm starting a new feature today called friday five, where i talk about five things i'm currently obsessed with…so here goes!
1. blogging a pretty solitary endeavor, unless you start a blog with someone else. julie, sarah and megan of coutorture organized a great meet up at anzu and it was wonderful to meet shali, the miss crew, annie, jill and the other great sf bloggers. it was especially nice to meet…
2. catie, aka cuffington, who i've "seen" (in pictures) and possibly once at barneys (haha). she's soo cool and i was loving her outfit, especially that elizabeth and james tuxedo jacket…must find one.
3. and continuing the olsen love, ashley put together two great outfits last week for the cfda awards. both so simple, but so chic. her calvin klein suit was very "le smoking."
4. i've been an earnest sewn jean gal for as long as they've been around, but last week, i hit the billion dollar babes sale where i got 2 pairs of jeans from deener, plus a miniskirt. i was totally dogging on the ankle buttons on the smoker jean, but when i tried them on, it was perfection.
5. i have never been on the stam bandwagon, but after seeing pics of marc jacobs' new soft calf pleated stam, i may be hooked. and it comes in purple!
pics of ashley olsen from olsen-fan.net; stam pic from marcjacobs.com