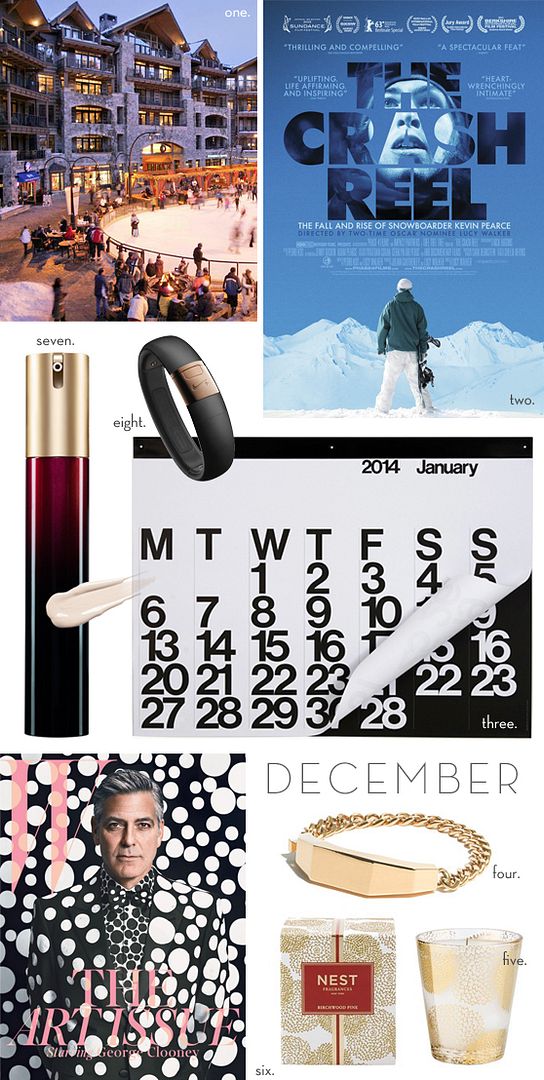 one. so excited for the start of snowboarding season! can't wait to go to northstar in a few weeks.
two. speaking of snowboarding, the crash reel, a documentary about kevin pearce, is finally making it to theaters. pearce and shaun white were snowboarding rivals who were set to meet at the 2010 olympics until pearce crashed during training. his comeback from a traumatic brain injury is inspiring and heartwarming. d grew up in the town right next to where pearce did (norwich, vt), so it's of special interest to us.
three. being type lovers, d and i picked up this calendar for our bedroom/office. i love the scale of it (48″ x 36″) and that it's black and white.
four. madewell's id bracelet is a unique take on the trend (also comes in silver).
five. this candle from nest makes our apartment smell like we have a live tree.
six. the art issue of w magazine always has great content and stunning visuals. the december/january issue features george clooney in an outfit by japanese artist yayoi kusama.
seven. my favorite highlighter now comes in a liquid…perfect for the colder months.
eight. i already got one of my christmas presents, a rose gold nike fuel band. the perfect thing to kickstart my winter fitness routine.
photos via moonshineink.com, global grind, imp awards