academy of art's emma xueling cui's graduation collection
this time of year, college students all over the country are getting ready for finals and graduation. in fashion, finals aren't necessarily the traditional tests and papers, but designing collections. this week, students at academy of art university (where i received my mfa in graphic design) and california college of arts will be presenting their senior collections in runway shows. it's always cool to get to see what the seniors and graduate students do; i am always blown away by their talent. i also love seeing when students are recognized by their professors or given internships with top brands on the spot.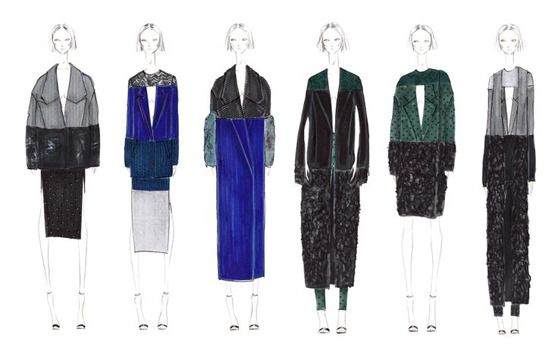 academy of art's damien chandra, whose collection is inspired by sculptor willy verginer
i've attended the academy of art show a number of times both here and in new york, and the level of production is always top notch. i also love that students can collaborate across majors, for example, fashion design and metalsmithing. this year, the council of fashion designers of america as well as aau alumna (and 2014 cfda/fashion fund finalist) ryan roche are being honored. in addition, max azria group creative director lubov azria will be in attendance as students are presenting a capsule collection in honor of hervé léger's 30th anniversary. emma xueling cut and damien chandra were two of the collections that i was into based on the sketches, and you can see more of the designers and read about their inspirations on the aau school of fashion blog.
sketches from the collections of farah fara, nina sturmfels, vanina howan, and tiana rashae, all from california college of arts
meanwhile, at cca, the show is made up of 13 undergrads who are chosen to participate by a jury of industry professionals. the program is known for their dedication to sustainability, recently being named the top program of its kind in the world by fahsionista. it's my first time at the cca show, and i'm excited to see what the designers have in store.
follow me on instagram as i'm at the shows this thursday (aau) and friday (cca)…
academy of art university (@aaufashion on twitter and instagram / #academyartfashion)
an archive of the academy of art shows
california college of art (@cacollegeofarts on twitter and instagram / #ccafashionshow)
highlights from last year's california college of arts show